I recently had the great pleasure of interviewing the actress Anne Cunningham. Anne is a true Coronation Street original, having played Linda Cheveski, daughter of Street legend Elsie Tanner, in the very first episode of Corrie back on 9th December 1960. I wanted to find out more about how Anne started out as an actress, her experience of working on Coronation Street and also other aspects of her career.
First of all I'd love to know why and how you became an actor in the first place.
Not sure HOW I became an actor! Although born in England (Yorkshire) I was educated in South Africa and there was little theatre there except the National Theatre which needed you to be bi-lingual in Afrikaans and English. I did pass my exams in Afrikaans as a subject but was hardly fluent. However I had done "As You Like It" at school and the drama teacher suggested I might train as an actor in England at the Rose Bruford College of Speech and Drama which offered a course combining a 2 year teaching course with a 2 year acting course in 3 years so that at the end as well as being a trained actor I was also a trained teacher. This appealed to my parents and I duly applied and was accepted. As it turns out I have never had to teach.
How did you come to be cast in Coronation Street in the part of Linda?
I was appearing in weekly rep in Buxton as leading lady when the stage manager said he was asking the casting director from Granada to come and see the show as he had a small part in it. "Roar Like a Dove" So I sent a letter asking her to look at me too.
As luck would have it she wasn't able to come that week but came the following one when I was playing TWO parts ( twins) in Grand National Night which needed Northern accents. I spoke to Margaret Morris in my dressing room during the interval whilst doing a quick change and hoped she'd remember me.
When back in London a couple of months later she contacted me and I met Stuart Latham at the Granada Offices in Golden Square in London. I was asked to do a test in Manchester.
What are your memories of that first live episode of Coronation Street in December 1960?
I had never done television before. In fact I didn't have a tv set! Having only ever done theatre "live television" was not much different...you couldn't stop! The only difference was acting to the camera.
The Tanners made an immediate impact in the show. What was it like to work with those actors?
I loved the first year of the Tanners. We were a real "family" spending time on and off the screen together. I still regard Philip (Lowrie, who played Dennis Tanner) as my brother (both being only-children) and I also see Ernst Walder (Ivan Cheveski) regularly although he now lives in his home country of Austria.
Coronation Street had many memorable original characters. My favourites from that era are Annie and Jack Walker, played by Doris Speed and Arthur Leslie and Ena Sharples, played by Violet Carson. What were they like to work with?
Doris Speed, Arthur Leslie and Vi Carson were very much the older and respected members of the cast as were Margot Bryant and Lynne Carol.
In 1963 you played Judith in the film This Sporting Life, with Richard Harris and Rachel Roberts. What was that film like to be a part of?
I left the Street at the end of 1961 feeling that a year in a soap was long enough as there was so much I had yet to do..film, West End, radio etc. As luck would have it the North was BIG ! Saturday Night Sunday
Morning. The Loneliness of the Long Distance Runner etc. So it wasn't too big a step when Lindsay Anderson cast me as Judith in This Sporting Life. I loved working with him. He had a way of directing an actor which made you feel YOU had thought of what he wanted so everything was relaxed and easy.
Also apart from Rachel I was the only girl on location and was very spoiled!
In 1964 you worked with Roy Kinnear on the series World of His Own. What was Roy like to work with?
I had worked with David Croft on a Light Entertainment programme called "Impromptu" which was one of the first programmes on the new channel BBC 2. After the success of That Was The Week That Was Roy Kinnear was offered a show of his own to star in A World of His Own and David cast me as his wife. His character was to be called Stanley Blake and I was to be his wife Helen.
The set designer was called Darrol Blake and HIS father was called Stanley, so when he was asked to design the first set "Stanley Blake's bedroom" he said "This is where I came in" !! I LOVED working with Roy. He was a very generous actor and a wonderful comic feed. We laughed so much during rehearsals...and during the takes...that I am surprised David Croft didn't explode!...mind you he was good at laughing too!
Darrol only designed the first series but in 1965 I married him and am now Mrs Blake...again!
You have appeared in many classic television shows over the years, including The Avengers, Z Cars and The Fall and Rise of Reginald Perrin. Do you have fond memories of these programmes?
As a jobbing actor one had no idea which job would resonate with the audience and become "iconic". It was just another job. The Avengers, The Fall and Rise of Reginald Perrin and Are You Being Served STILL produce an income of about £25 annually but I can't say I remember them more than "Casanova" with Jeremy Brett "Poor Bitos" with John Neville or "The Physicists" with Roger Livesy and Mary Morris which were never seen again!
In 1973 you worked on a series of the Dick Emery Show. What was Dick like to work with?
Dick Emery was a nightmare to work with! A little man with all a little man's complexes. Also he was Variety and jealous of any laughs not got by him! He would deliberately "fluff" if I got a laugh so that there would be a retake and the studio audience having heard the gag the first time wouldn't laugh so much on the retake.
You returned to Coronation Street in 1984 for a short stint. How did that experience compare with your time on the show in the 60s?
I can't say I enjoyed my return to the Street in 84 as much as I had hoped. The director wondered if I could do the accent and the Green Room had grown so large that the regulars had little booths so there was little contact. There WERE still rehearsals, unlike now, so that you could get an idea of where you fitted into the whole episode but the 'family" feeling had gone.
Do you still keep up with the Street today and would you ever consider returning to the show?
Hearing my friend Philip's experience of life on the Street now I have no desire to return.
Of all the roles you have played during your career, which are you most proud of and why?
My favourite part in my career has to be Helen Blake. It was a comedy role with many characters and a wide range of accents, working with a true gent and meeting the love of my life! We have just celebrated 51 years of happy marriage producing 3 daughters and 4 grandchildren! Success.
I would like to thank Anne very much for taking the time to answer my questions. It really was a thrill to be in touch with someone who was there right at the beginning of one of my all time favourite television series.
---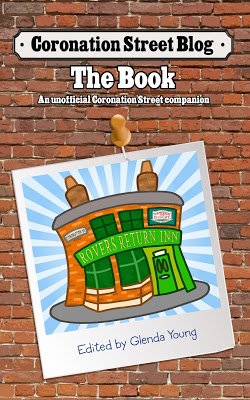 Please read
our advice for leaving comments on the Coronation Street Blog
All original work on Coronation Street Blog is covered by a
Creative Commons License