Friday 17th March 2017
STEVE MAKES A PLEA TO LEANNE TO DO THE RIGHT THING Leanne and Nick row over her plans to allow Steve access to Oli. Gail advises Nick to walk away while he still can. Nick needs space to think but when he forgets he and Leanne have an appointment to register Oli's birth Steve jumps in, having heard the news from Simon, and sets off in pursuit of Leanne. As Leanne registers Oli's birth Steve bursts in and demands to be named on the birth certificate. How will Leanne react?
FAYE'S FLOORED BY A BLAST FROM THE PAST When Faye's tattoo becomes red and angry looking Seb suggests she should see a doctor. When Anna discovers the tattoo she's fuming, especially as Faye admits Seb supplied her with fake ID. Izzy later finds an upset Faye and realising the tattoo has become infected marches her off to A&E where Faye comes face to face with her past.
DANIEL'S DILEMMA IS ACADEMIC Sinead suggests that she and Daniel should find a place of their own. Daniel agrees but with his Oxford MA in mind, suggests a fresh start down south. Will Sinead agree to consider a move?
ELSEWHERE Gail suggests to David that he and Maria would make a lovely couple. Amused, David and Maria agree to have some fun winding Gail up. When Bethany moans to Nathan how Sarah wasn't happy about her staying out late, he suggests they have a weekend away and really give her something to moan about.
Friday 17th March 2017
REVENGE IS A DISH BEST SERVED COLD FOR MICHELLE As Michelle drowns her sorrows in the bistro she spreads poison in Nick's ear, telling him it's clear Leanne doesn't care about him. As Michelle plies Nick with wine, Robert warns Michelle she's playing with fire, but ignoring his words she invites Nick back to the salon flat. Robert fumes. As Leanne looks for Nick, hoping to make up after their row, Michelle leans in and kisses Nick. Will he respond?
DANIEL'S FACED WITH A DILEMMA Daniel meets up with his lecturer who urges him to accept the place at Oxford, pointing out it's a once in a lifetime opportunity. Will Daniel reach a decision?
ELSEWHERE Gail's thrilled when David invites Maria round for tea, unaware they're winding her up.
Like us on Facebook | Follow us on Twitter | Download our free App | Visit Corrie.net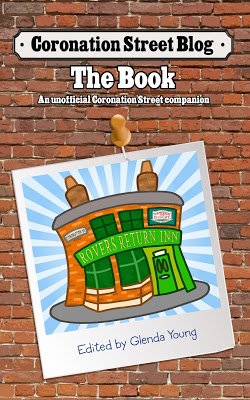 NEW! Coronation Street Blog - the book.
A must for all Corrie fans!
Please read
our advice for leaving comments on the Coronation Street Blog
All original work on the Coronation Street Blog is covered by a
Creative Commons License