Hiya! It's just Jordan with this week's Wednesday review -at the last minute of course! Why break the habit of a lifetime? You'll probably be pleased to know this review is a little cheerier than my recent reviews have been.

It was conception vs contraception in last night's episode as the episode mainly focused on the now benign drama of Leanne and Steve's baby as well as Sarah's farcical quest to get Bethany on the pill. I'll start with the latter first – a somewhat awkwardly fun set of scenes which are set to turn very dark very soon. As we saw in Monday's episode, Sarah cooked for Bethany and her new 'boyfriend' and the first meeting appeared to go as well as expected.

Sarah seems to have accepted the fact that she is younger than her daughter's boyfriend and sets about convincing her sixteen year old to use all forms of protection. This provoked an ironic laugh; as we all Bethany is a direct result of a teenage Sarah-Lou having unprotected sex. Bethany is less than thrilled to hear that her mother has booked her an appointment at the surgery after school and simply mortified at her suggestion they go condom shopping together. Still, Bethany knows she cannot really argue and goes to the surgery, but insists upon going into the room alone.

She confides in the doctor that she doesn't need the pill; she already has the implant, but has avoided telling Sarah this.

"Relationships when I were a teenager were tougher"
"Can't have been that tough, you managed to get up the duff at twelve!"
"Yes I did and I wouldn't recommend it!"
"Thanks..."
Later in the episode, things take an eerie turn. Nathan is holding a party and has invited Bethany round, eager for his friends to meet her. For a while, a dolled-up Bethany stands pretending to enjoy sophisticated wine while clinging to Nathan's assistant Mel, the only two women in the room.

Mel appears to have mastered that soapland look that just oozes dramatic irony. When Nathan does eventually pay some attention to his 'girlfriend', he showers her with the usual empty compliments. The words which Bethany lives for are no more than stepping stones for Nathan.

It is right at the end of the episode we get confirmation of the fears we have for Bethany. One of the many men at the party begins chatting to Nathan, making a few lewd comments about Bethany and it is soon clear what he is after.
"When she's ready, you will be the first know."
Remember that photo Leanne begrudgingly took of Steve, Liz and the new baby? A jealous Michelle did some digging and just so happened to find it. Wednesday just so happened to be the day of Leanne and Nick's meeting with the solicitor at the Bistro to try and gain full custody of Oliver. Michelle doesn't particularly like Leanne at the minute, and sets out to prove to Nick that he is being lied to. Nick was under the impression that Leanne wanted him to be the legal father of the baby, cutting Steve out of the picture entirely. That is until Michelle perches herself at the Bistro bar, sends the photo to Nick and watches the wooden sparks fly.

However, the solicitor does pull some rather hilarious faces which see her question what on earth is going on. After the revelation, there is a brief confrontation. It is only towards the end of the scene that Nick gives a look of empathetic consideration. A world first!
"If you look really closely, you can see your reflection
in the mirror holding the phone. You've got an eye for photography, it's a lovely family photo"
"Oh shut your face!"
Elsewhere, Maria is back at work at the salon and David is desperate to see her tag-clad ankle in all its glory. After poking fun at her sundown curfew and his ex-jailbird mother, he invites Maria out for a drink after work. However, after a run-in with Toyah earlier that morning, who seems unwilling to forget the past, she is keen to avoid the Rovers. So a post-prison drink is arranged at number 8 and it ends with one of those Soapland hugs which goes on just a fraction too long.
"Oh! Show us your ankle"
"David, that's very forward"
All in all, a rather decent episode. Some very witty lines cropped up and it will be very interesting – as well as harrowing – to see where the Bethany storyline is headed.
---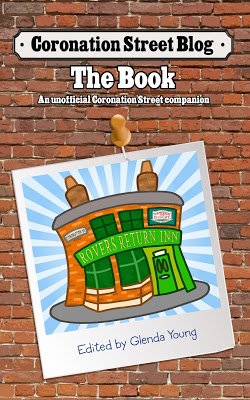 Please read our advice for leaving comments on the Coronation Street Blog
All original work on Coronation Street Blog is covered by a Creative Commons License