Wednesday 15th March 2017
BETHANY FALLS DEEPER INTO NATHAN'S TRAP Bethany panics when Sarah insists on taking her to the doctors for contraception (she has already had the implant). How will she explain herself to her mum? As Bethany sets off for an evening at Nathan's she's touched that Sarah's treating her as adult, but it's clear it's a strain for Sarah. Meanwhile Bethany feels awkward when she arrives at the party and all the guests bar Mel are men.
STEVE'S FORCED TO PLAY HARD BALL As Michelle snoops on Steve's cloud storage she's heartbroken to see the photo of him with Oli. Leanne's alarmed to learn that Nick's organised a meeting to discuss stopping Steve getting access to Oli. As they meet with the solicitor in the bistro, Michelle arrives for lunch with Robert. Realising what's going on Michelle texts the photo of Steve, Liz and Oli to Nick. As Nick rails at Leanne, Robert disapproves of Michelle's tactics. Nick later threatens Steve, ordering him to back off.
EAGLE-EYED GAIL THINKS SHE'S ONTO SOMETHING When Gail spots David and Maria enjoying a drink together she decides they'd make a great couple.
ELSEWHERE Faye returns from the tattoo parlour with her new ink.
Like us on Facebook | Follow us on Twitter | Download our free App | Visit Corrie.net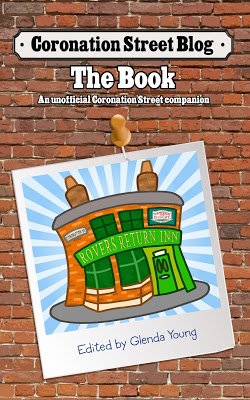 NEW! Coronation Street Blog - the book.
A must for all Corrie fans!
Please read
our advice for leaving comments on the Coronation Street Blog
All original work on the Coronation Street Blog is covered by a
Creative Commons License