Corrie weekly updates from 1995
All the wit and warmth of Weatherfield
None of the waffle

Available from

amazon.co.uk

or

amazon.com
Speaking of Michelle, Liz and Steve arrange a baby shower for her for Monday night next week. Toyah also arranges a baby shower on the same night for Leanne. There's some wonderful confusion over who's going to which baby shower and then Liz makes it clear in the Rovers that Michelle's baby shower is the one that should come first. Michelle asks Leanne to have a joint baby shower, to which Leanne agrees.
Someone else changing their mind this week was Roy when he decided against selling the café. A cheer went up from our sofa.
Johnny's incensed that Jenny caused such a split in his family and throws her out of the flat on her ear calling her vicious. Aidan says she's poisonous. Worse is to come for Jenny when Johnny sacks her after Gemma gets the two of them together in the Bistro to talk and Johnny thinks Jenny has arranged the meeting herself. But later in the factory, after Gemma pleads Jenny's case to Johnny. "I know she's a head case but she really loves yer!", Johnny mellows towards Jenny. In fact he mellows so much that he proposes on the factory floor.
This was such a brilliant scene. Johnny gets down on one knee to pick up something Jenny's dropped and you can see him thinking 'While I'm down here, shall I pop the question?' and you're thinking to yourself as a fan 'He wouldn't be so daft, would he?' and then you can see him thinking to himself again 'Nah, I wouldn't be that daft, would I?' but he does… he proposes to Jenny flaming Bradley and of course she says yes. There's champagne corks flying in the factory and again in the Rovers as Jenny looks set to become Jenny flaming Connor. "I was playing putrid!" Gemma says in the Rovers later as she toasts the happy couple. "Cupid!" Rita corrects her. Oh, I do hope we get to see Rita play the mother of the bride and Gemma as bridesmaid.
Elsewhere this week Shona gets her feet under the table at Eileen's house when she moves in. Billy also gets Shona a job in the café. I don't like this storyline, it feels forced so far. We had it with Becky – bad girl makes good, put her with Roy, working in the café. I'm not liking this one so far.
And that's just about that for this week.
Remember, you can sign up to get these Corrie weekly updates by email at
http://www.corrie.net/updates/weekly/subscribe.htm
This week's writers were Ben Tagoe (New Year's Day hour long); Jonathan Harvey (Monday double); John Kerr (Wednesday); John Kerr and Damon Alexis-Rochefort (Friday double). Find out all about the Coronation Street writing team at
Coronation Street Blog: Exclusive: All Current Corrie writers online
Like us on Facebook | Follow us on Twitter | Download our free App | Visit Corrie.net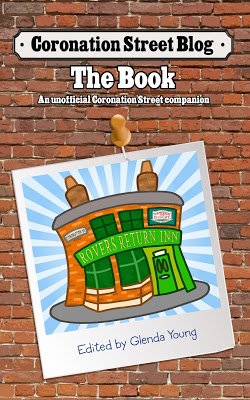 NEW! Coronation Street Blog - the book.
A must for all Corrie fans!
Please read
our advice for leaving comments on the Coronation Street Blog
All original work on the Coronation Street Blog is covered by a
Creative Commons License