When our editor Glenda came up with the idea of publishing a book of our blog posts through the years, I was thrilled. A blog, by its very nature, is a living thing, and as new posts are added, old ones naturally fall further away from its home page, and into the archives, and our memories. The prospect of publishing a book meant that we not only had the opportunity of revisiting our past work, and picking out those we wished to nominate for inclusion, these would be in print, to have and to hold from publication date forward.
As I embarked on selecting which of mine I would like to include, I couldn't wait to see what my fellow bloggers would choose.
With over three years worth of blogs to go through, it wasn't an easy task for me to narrow them down, but immensely enjoyable as I read my reviews, interviews and opinion pieces on all variety of Corrie wonders and woes; weddings, deaths, affairs, new characters and old, villainy, heroism, revenge and forgiveness; all human experience on one cobbled street.
In addition to immersing myself in the fiction of it all again, it brought back lovely memories of the lived experiences I'd had courtesy of the blog, such as meeting my fellow bloggers for the first and subsequent times, several special visits to the set, the privilege of having watched previews and interviewed cast members in person at ITV in Manchester, and attending the UK Blog Awards in London with blogger and friend Graeme Naylor where we were finalists in two categories; a very proud occasion, and heaps of fun to boot.
The Blog was 9 years old on the 7th of December, and so we chose that week to launch our book. I was so happy to receive my copy, and had to put a special moment by to open the envelope and savour leafing through it for the first time.
It has been such a pleasure and a great source of pride to read what we call our love letter to Coronation Street on subjects ranging from the ghosts of Christmasses past, the demon drink, soap surnames, Sally's kale crisps, Corrie's kids, Hayley's farewell, novelty castings, recurring actors, mithered men and gobby mares, to a Corrie costumier, Peter Barlow's Pompey paradise, Morrissey's cobble connections, a selection from our 50 years of Corrie in 50 days series, and of course Fat Brenda's gay horn.
Like many strong Corrie women unafraid to flaunt their assets while offering sage advice from behind the pumps, if you love Coronation Street as much as we do, I think you'll undoubtedly enjoy this trip down ginnels past. I certainly did.
By Emma Hynes
Like us on Facebook | Follow us on Twitter | Download our free App | Visit Corrie.net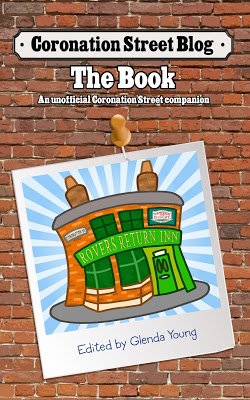 NEW! Coronation Street Blog - the book.
A must for all Corrie fans!
Please read
our advice for leaving comments on the Coronation Street Blog
All original work on the Coronation Street Blog is covered by a
Creative Commons License