Happy new year! And welcome to the first episode review of 2017.
It's a bit of an odd one, because there's no underlying theme, neither is there really an A, B and C storyline. Rather, the Connors are the epicentre and everything radiates out through them. Johnny has decided that he's retiring and this pleases Eva, who wanders into the factory like she owns the gaffe, borrows an iPad and then leaves again, but infuriates Jenny, who enjoys her premium status of boss's girlfriend. In the gifted hands of Jonathan Harvey, Jenny becomes a birrova bitch, scheming and plotting. She overhears Jonny berating Aidan for "sniffing around other girls" and, after an argument in which Aidan calls her a gold-digger, she sees him talking shop with Alya in the pub, and puts two and two together and makes a chance to cause trouble. Don't play with Jenny or you'll play with fire!
Eva has another nemesis on her hands as she fails to make a connection with her half-step-sister and is displeased when Toyah says that she is glad Maria is in the big house because the crimper slept with her boyfriend back in 2003. Toyah maybe needs to forgive and forget given that she is how's your father-ing with her sister's ex-husband! Eva though, suspects nothing, and even sends Aidan off to prison without her after her bus breaks down. Aidan confesses that he is in love with both Maria and Eva and that he wants to take Maria and Liam away on holiday when she has served her sentence. Maria feels that he's buying her off and darkly hints about revealing their tryst to Eva, something Aidan seeks to head off by telling his girlfriend that Maria's saying all kinds of weird things. "Who knows what she'll say next?"
Jonathan Harvey must have been at the archives because another bit of Corrie history is invoked, that a) Paul and Liam Connor conned Adam out of his share of the factory and b) Peter returned his shares to Carla, following their split. Adam, whose DNA is at least 50% shark, wants to sue the Connors for his rightful share, but Peter's only doing it for a jape, until Simon starts talking about a Caribbean getaway that Nick is organising for the Battersby-Tilsley clan. Peter begins planning his counter-holiday with Simon, which can surely only be funded by a) getting his shares back or b) I dunno, maybe getting a job? I hear that Paddy Power in the precinct are hiring. Anyway, the upshot is that Johnny tells Aidan that if he can sort the Barlow-Baldwin ruckus, he will fully retire and hand over the reins to his son.
In a non-Connor related story, Brian (not Bri, never Bri) persuades Sally to badmouth Giles Gove, who is interested in buying the caff, to Roy. Big cheese at the council, Sal says that Mr Gove is a bad 'un, homophobic, transphobic, rips people off and is likely to turn Roy's Rolls into a penny arcade. Unfortunately, she confuses the potench buyer with Michael Gove and then Miles Gove (maybe Michael Gove's even eviller twin brother?) and the jig is up. "You think you know what's good for me, but you don't," Roy angrily tells Brian. "I've ruined everything, of course I have to leave." I somehow think he'll stay, don't you, readers?
Shona, a.ka. the new Kylie/Becky, is causing trouble for Billy as Todd objects to him bringing her back to stay chez Grimshaw, and the hostel manager whose purse Shona steals in order to replace the money she took from David's wallet, after Todd emotionally blackmails her with David's recent history.
And Phelan continues his blackmail of poor lovely daft Andy by showing him some of Steph's jewellery, implying he can get into their flat any time. Andy is to collect Kev's new pick up truck for evil Phelan.
Overall, it was a good couple of episodes, As Oscar Wilde so nearly said: when you're tired of Weatherfield, you're tired of life.
Rachel Stevenson - on
twitter
.
Like us on Facebook | Follow us on Twitter | Download our free App | Visit Corrie.net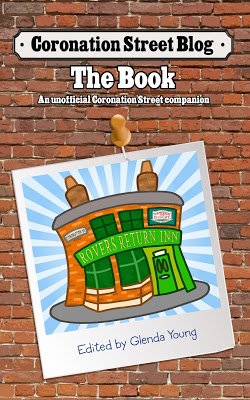 NEW! Coronation Street Blog - the book.
A must for all Corrie fans!
Please read
our advice for leaving comments on the Coronation Street Blog
All original work on the Coronation Street Blog is covered by a
Creative Commons License