Adam doesn't' intend to work in the florist or help Daniel clean the flat: he has places to be, drug dealers to meet. Tracy warns Mary not to do anything silly while she's with Amy at the dentist, which lasts all of five minutes as Ms Taylor goes into the back-room, leaving Adam with an open cash till. He "borrows" some money and Ken's car to go find Ronan, drug dealer and boyfriend of Trina, the woman from the legal firm whom Adam slept with a couple of weeks ago. Meanwhile, Amy, upset that Michelle hasn't returned her texts or calls, jumps into the car and insists Adam drives her to the graveyard so she can 'see' Grandma Deirdre. Unfortunately (for Adam), the funeral cortège for the teenager who overdosed on drugs supplied by Ronan, arrives at the same time as Amy 'n' Adam. One heart to heart later, and Adam's cancelled the deal, but when he returns home to a tongue-lashing from Ken ("You're workshy, idle, arrogant!"), he drives to the canal to meet with Ronan after all. He sells the cocaine but it doesn't seem that we've seen the last of suspicious Ronan yet.
Sally carries on with her Emmeline Pankhurst routine, although she sees herself more as Maggie Thatcher, and she goes to her meeting with the bosses of the building firm. She gets the sexist builder sacked, and a considerate code of conduct signed and a story in the Gazette. Unfortunately, the journalist's feminist credentials involve shafting Sally by bringing up Rosie's history of Popping Her Cherry (vodka promo work), twisting her words, and printing a gorgeous pouting pic of young Webster.
My fave Rosie moments this evening:
Carrying her window cleaning bucket in the crook of her arm like a Louis Vuitton.
Wriggling out of her overalls on the pavement.
Askng if John Lennon achieved his aim of world peace.
Asking Erica if she the war she protested against was the Vietnam one.
Daniel takes advice from Rana about babies. I'm not sure it's official NHS policy to have nurses (specifically one who feels that she herself is too young at present to have child) encourage students to have unplanned babies, but upon hearing that the Barlows are "irresponsible" and "leg it at the first sign of trouble" (from Peter), Daniel changes his mind and suggests to Sinead that they have the baby.
Cathy seems to be fitting in the kebab shop, dressing a la Gemma with her hair in bunches, but she's confused by the patter of the average punter. "What's a
roadman
? Is it a navvy?" she ponders. Gemma claims she will try quiche and Radio 4 if Cathy tries out cheeky Vimto and a chucking out time doner. An odd couple night on the town is always good lolz, especially when it features Gemma and her revolving Primark wardrobe. After a few depth-charges, Gemma suggests some kebabs to line the stomach, but unfortunately Cathy chucks up her stomach lining onto Brian's shoes.
And finally, bored housewife Chloe tries to bribe ageing pseudo-gigolo Peter to spend some time with her but no dice (for now).
Rachel Stevenson - on
twitter
---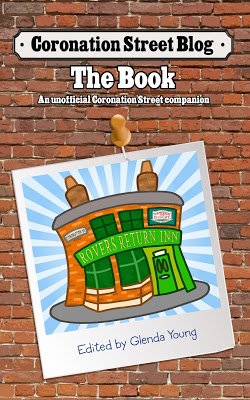 Please read
our advice for leaving comments on the Coronation Street Blog
All original work on Coronation Street Blog is covered by a
Creative Commons License