Hiya! It's just Jordan with this week's Wednesday review. Or more of a Wednesday whinge if I'm completely honest.
I've put off writing this review all day. I've watched Wednesday's episode around three times now and it is only now I am trying to cobble something together. I think it was Jennifer Saunders who said when you don't know what to write, just start writing anyway and something will happen, unlike in last night's episode of Coronation Street.
The first visit of the episode is owed to Daniel and Sinead over at the flat, who have just been given £100 from Adam. More on where that money came from later, but I'm sure you know already. As we know, Sinead has fallen victim to a very contrived accidental pregnancy (although I have never been sure how a pregnancy can be "accidental") with new boyfriend Daniel. She has joined the long list of women living on Ovulation Street who appear to be oblivious to the idea of contraception, The pair are now deciding what the best course of action would be. Daniel tries to persuade Sinead to take the day off work, but she won't hear of it; after all, her knicker stitching is their only form of income, other than Daniel's student loans. This leaves Daniel feeling compelled to get a job and this being Industrialisation Street, he walks right into one over at the Bistro, after somehow charming Robert with his face.
Still unsure about a decision, Sinead turns to her Aunty Beth for some motherly advice. Beth gives her some rather stock advice to do what she feels is right, but it seems to work. Her decision is cemented later when she calls at Daniel's sudden workplace for yet another chat. We've had Industrialisation Street and Ovulation Street in this review so far. What can I get in next? Oh yes - Revelation Street. Daniel tells Sinead that his mother abandoned him as a kid and he brought himself up. Sinead is stunned but it is this revelation which makes her realise Daniel's past could be a good foundation for their future as a family. I'm not sure I entirely believe Daniel. I think there are deeper secrets to emerge yet, which will no doubt spell trouble for this thrown-together soap couple. If you ask me, Sinead is in trouble deep, but she's made up her mind. She's keeping her baby. Oh, Sinead. Nothing compares to you.
"I believe we can do it, properly. Get it right"
"Yeah I think maybe we can!"
Adam is on the warpath after discovering the bag containing his drug-dealing money has gone missing. Initially blaming Daniel, he soon learns that Ken has taken it. After Adam had selfishly borrowed Ken's car and left the keys at his flat, Ken went to look for them. Upon finding them, he also found the money earned by selling drugs and then things began to unravel. Adam storms round to number 1 and a typical Barlow altercation ensures. Adam is forced to reveal the source of the money to his granddad when an increasingly suspicious Ken threatens to call the police. Adam later goes into the backyard to find Ken, filled with rage, throwing every last note onto a bonfire.
Elsewhere, Tim attempts to cover for Peter when that rich tart Chloe phones the cab office. He tells her that Peter is unavailable today, but that appears to be the opposite of what Peter wants. Peter later calls Chloe and is soon at her house fiddling with her plugs. He emerges from the back of the television having fixed the simple problem and then offers to do even more odd jobs, even ignoring a phonecall from Toyah. What do these two want with each other? Oh, and Our Pal Sal did some more crusading on the unwilling behalf of Dozy Rosie after her words were twisted by a journalist during the protest for women's rights. the As well as all this, Cathy has a hangover thanks to the Gemma's influence and Liz showed potential buyers round the pub, having decided that she will sell her share of the pub along with Steve's, as a result of his impending divorce from Michelle.
"That's our Betty. She worked here for years.
She were a barmaid til she were in her nineties"
Apart from that lovely moment where Betty was mentioned, I didn't particularly enjoy this episode. It just didn't hold my attention.
Anyway, until next week!
As always, thanks for reading!
Jordan
Twitter - @JordanLloyd39
---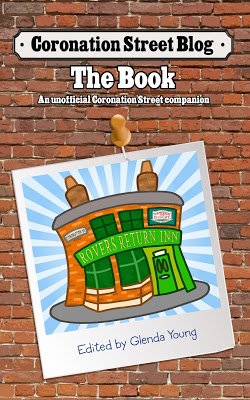 Please read
our advice for leaving comments on the Coronation Street Blog
All original work on Coronation Street Blog is covered by a
Creative Commons License