Monday 9th January
MICHELLE GETS AN UNWELCOME SURPRISE Michelle's frosty towards Robert, leaving him bemused and wondering what he's done to upset her. Michelle asks Robert if he's harbouring feelings for her and when he confirms that he's in love with her, Michelle's taken aback. Later, Michelle suffers a sudden pain and Leanne insists on taking her to hospital to be checked out, will Michelle listen?
EVA'S CLAWS ARE OUT FOR TOYAH Eva masks her growing contempt for Toyah and in the corner shop, Toyah and Gemma discuss drinking games they can play at the baby shower party while Eva's disapproving. Toyah, Eva, Gail, Audrey, Fiz, Gemma, Sarah, Sean, Steph and Robert gather in the Rovers for Leanne and Michelle's baby shower party. With the drinking games underway, Audrey knocks back shot after shot to whoops of encouragement from the girls. Eva corners Toyah in the ladies' loos, will she reveal that she knows about Toyah's affair with Peter?
PHELAN TURNS THE SCREW ON ANDY Tyrone, Luke and Freddie worry about their jobs knowing that Kevin's had to use the money put aside for the tax man to pay Sophie's medical bills. Aware that to pull off the tow truck scam he needs a set of garage overalls, Andy offers to do Tyrone and Luke's washing for them but they insist there's no need… with his plan foiled, what is Andy up to?
ELSEWHERE Zeedan thanks Alya for encouraging Rana to be honest with him - is he thawing towards his sister? Meanwhile Kirk suggests to Beth, Sinead and Chesney they have a night on the town to celebrate their wedding anniversary but are cracks beginning to appear in Chesney and Sinead's relationship?

Monday 9th January
MICHELLE STEVE FACE AN UNCERTAIN JOURNEY When Sean informs Liz that Michelle's had a pregnancy scare and Leanne's taken her to hospital, the girls call a halt to the party. Sick with nerves, Steve and Michelle await the results of her scan… is everything okay?
EVA'S GOT PETER OVER A BARREL Toyah begs Eva not to tell Leanne about Peter but Eva refuses to make any promises. Meanwhile, Aidan meets up with Ben, his solicitor, and he's appalled when Ben advises him that Adam and Peter have a strong case. Having clocked their exchange, Peter and Adam celebrate. Peter takes it one step further and tells a thrilled Simon that he will take him on an adventure holiday. Aidan confides in Eva that Underworld could go bust because of the Barlow bully boys. Eva's outraged but takes matters into her own hands by calling in at No.1… what will she say to Peter and how will he react?
TYRONE AND KEVIN LOCK HORNS OVER THE GARAGE'S FUTURE In an effort to increase profits, Tyrone reveals his car valeting idea to Kevin. Kevin's scathing and the pair row over the garage finances. When Tyrone heads home offended, someone is lurking in the garage, ready to put their plan into action...
ELSEWHERE Having found out from Gemma that Chesney offered to work her shift so she could attend the baby shower, Sinead's furious. Upset in the knowledge Chesney lied to her, Sinead knocks back the wine which has disastrous consequences...
Like us on Facebook | Follow us on Twitter | Download our free App | Visit Corrie.net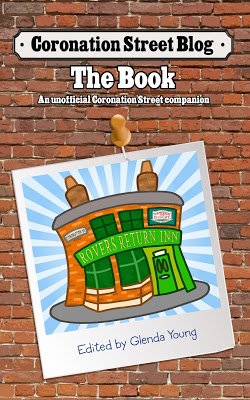 NEW! Coronation Street Blog - the book.
A must for all Corrie fans!
Please read
our advice for leaving comments on the Coronation Street Blog
All original work on the Coronation Street Blog is covered by a
Creative Commons License