Corrie weekly updates from 1995
All the wit and warmth of Weatherfield
None of the waffle

Available from

amazon.co.uk

or

amazon.com
Secrets tumble out in the Barlow house this week when Peter tells Adam and Ken that he and Toyah are together. Eva and Toyah try, and fail, to get back into Leanne's good books after she found out last week that Toyah and Peter were an item. Knowing his mum needs cheering up, Simon tells Leanne that Nick's going to propose to her which doesn't spoil the joy for Leanne and she accepts Nick's proposal. She's delighted to become Mrs Tilsley, yet again.
Now that their secret is out in the open, Peter tells Toyah he'll try for a baby with her. "I've got super sperm," he tells her. "The fastest little tiddlers in Weatherfield." But there's someone else who's got her eye on Peter's little tiddler when Chloe cosies up in the cab office and asks for Peter to taxi her about.
The Barlow clan are in even more trouble when Adam cheats on his legal exam by getting an advance copy of the questions. Daniel finds the exam paper in the bin, and goes running to Ken to dob Adam in. Adam's incensed when he finds out what Daniel's gone and down so he gets his revenge, and in some style too. Chesney waits in the Bistro for Sinead to turn up, thinking that their relationship might be back on track, but Sinead's got other plans. She's deflowering virgin Daniel in the stockroom at Underworld. Adam breaks the news to Chesney who storms round to see Daniel: "Oi! Virgin boy!" and give him what for. He's raging, is Chesney, and doing the full ginger. Fists are thrown but it's Daniel who wallops Ches with an intellectual, verbal beating up.
Elsewhere on the street, Rosie Webster returned from Miami this week with her sister Sophie. Rosie's so, like, literally, over the top? You know? And really, really literally annoying? But good fun to watch. Once she settles down and settles back in she'll be fine. She returns from Miami with a stash of cocaine she's unknowingly carried into the country, given to her by her boyfriend Antoine. She and Sophie panic and know they need to get rid of the drugs but how? They decide to bury them on Tim's allotment for now. Adam Barlow has his eye on Rosie and pesters her for a date on her return but she bats him away. "Not now, Adam!" she cries, not once but twice through the episode when she first returns, proving she's got more to her than the vacuum we might think she is.
However, Adam does get his date with Rosie after an accident at Websters garage. Luke gets trapped under a car and Kev admits it his fault for not ensuring proper health and safety. Luke's fine, he's got a squashed leg and Tracy fusses round him with an ice-pack and a cuppa. Adam tells Luke he should sue Kevin for damages but Luke says he doesn't want to as Kevin's a mate. However, when Rosie spies Luke and Adam chatting, she thinks Luke is going to sue her dad and agrees to go on a date with Adam so that he'll try to change Luke's mind about suing her dad even though he's already said that he won't. Adam and Rosie getting cosy could be a good match.
Over at Eileen's house, Faye's boyfriend Seb is up to no good and steals Pat's power tool from the back yard. Phelan spots him thieving and instead of calling the cops, he senses he can use Seb's devious nature for his own ends. He enlists Seb's help to pull out the Barlows' kitchen which he's doing up for them. While inside No. 1 Pat sees Seb open the dresser and steal Uncle Albert's medal (not Uncle Albert's medal!) and put it in his pocket. He warns Seb off and the medal is replaced, but Pat's got his eye on young Seb. "Are you grooming me?" Seb asks him in a dark, comedy moment. Phelan tells him, no, but he's certainly got something in mind for the wayward lad as a Phelan apprentice, perhaps.
Speaking of grooming, Bethany is drawn further into the shady world of Nathan Curtis at the tanning salon. She sets up her video hair and beauty website and Nathan enlists a woman at the salon called Mel to "like" Bethany's videos over and over online.
And finally this week, we see Shona is hiding a secret, but what could it be? Gemma thinks she recognises Shona from The Dog and Gun. And when Shona finds Lily's lost teddy bear and hands it back to David, Lily makes Shona a thank you card, which puts tears in Shona's eyes. And then the final scene of the final episode this week shows Shona at Kylie's graveside. Just what is going on?
And that's just about that for this week.
Remember, you can sign up to get these Corrie weekly updates by email at
http://www.corrie.net/updates/weekly/subscribe.htm
This week's writers were Perrie Balthazar and Jan McVerry (Monday double); Jonathan Harvey (Wednesday); Mark Burt (Friday double). Find out all about the Coronation Street writing team at
Coronation Street Blog: Exclusive: All Current Corrie writers online
Glenda Young
--
Blogging away merrily at
Flaming Nora
Website:
glendayoungbooks.com
Twitter:
@Flaming_Nora
Like us on Facebook | Follow us on Twitter | Download our free App | Visit Corrie.net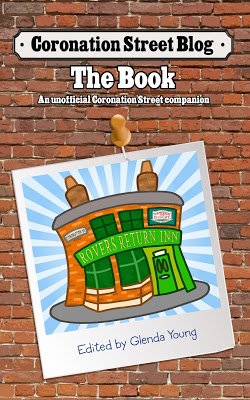 NEW! Coronation Street Blog - the book.
A must for all Corrie fans!
Please read
our advice for leaving comments on the Coronation Street Blog
All original work on the Coronation Street Blog is covered by a
Creative Commons License