Our blogger Rachel Stevenson normally writes her fantastic Monday night episode reviews but is away on holiday. While she's been away, Coronation Street Blog reader Ryan Oxley kindly offered to step into Rachel's shoes to bring you his review of Monday night's episodes.
And so, it's over to Ryan...
The birth of a Baby, the death of a rat (Ouroborus)
Well here it is, my third and final review of the Monday night double episode while Rachel has been on holiday. Treading the cobbles of the Coronation Street Blog has been a delicious delight - like one of Betty's Hotpots.
A familiar theme, maybe a motif, threaded through tonight's brilliant Corrie double. A maternalistic streak that favoured Leanne, Toyah, Sarah and Eva, and sadness for Michelle as ashes were scattered on one of Corrie's finest (and incredibly upsetting) storylines. Also, another unexpected death that spelt the end of an era. Greek mythology isn't something I'd ever associate with Corrie but tonight's double (including the tale of the giant causeway) had a mythical if not ouroborus air to it.
Following Friday's 'night out' we learn that Bethany has slept with sinister Nathan and without protection. Is this insidious storyline about to reap another unplanned pregnancy? Sarah seethes upon learning the 'truth', and her mothering instincts are troubled in handling the situation.
Toyah's IVF battle sees Peter borrow money from Ken to book a conveniently cancelled IVF consultation and Eva 'loses' track of Liam who races to the bus stop, wishing to visit his imprisoned mum. The lad is consoled by a heavily pregnant Leanne, and Little Liam's woes continue as we learn he caused Darryl the rat to escape into the street. Leanne is still distraught at her unified sisters, and an argument explodes with Toyah, as they leave Victoria Court and head into the lift.
Steve and Michelle retreat to Anglesey, the shores of Wales, to scatter baby Ruairi's ashes. We are treated to a beautiful location shoot, the strong winter wind and the tides in unison to the couples shattered emotions. The broken couple both stare out poignantly at the distant horizon. This could be foreshadowing for their relationship, as we already know; another McDonald baby is about to be born. It's worth mentioning that this was another heartfelt and understated performance from Kym Marsh and Simon Gregson. 'Rover' running around the beach added a subtle comedic touch. Corrie at its finest.
Back on the street and with a rat now firmly on the loose, Toyah and Leanne become stranded as the lift draws to a halt (no alarm in Victoria Court?) and Leanne's waters inconveniently break. Hero of the hour (or of any hour in Weatherfield) Robert races to the rescue. A power cut has shut the lift off!
With Leanne's contractions getting stronger, Weatherfield's medical marvel Rana is also on the scene. As Peter visits the IVF appointment on his own, Toyah turns midwife, unworried and seamlessly, a newfound career perhaps for councilor come barmaid, Toyah?
As the emergency services arrive, new 'father' Nick races to the scene, and by now, the baby has already entered the world. In tragic comic effect, it transpires that Darryl the rat had left the world by causing the power cut, as Baby Oliver has entered it, 'He went out with a bang' enthused Tim, as you would with 50,000 vaults through you'. A birth that will undoubtedly cause 'explosions' in future episodes?
A brilliant double tonight but I'm left thinking about the death of Darryl the rat, the demise of a Coronation Street legend. Almost ouroborus, or 'one out, one in' as my nan would say.
Ryan B Oxley
NEW MUSIC DJ
www.penistonefm.co.uk/listenlive
Twitter:
@rybazoxo
NEW MUSIC BLOG
www.drunkonmusic.co.uk
/
www.facebook.com/DrunkOnMusic2
Twitter:
@drunkonmusic2
Like us on Facebook | Follow us on Twitter | Download our free App | Visit Corrie.net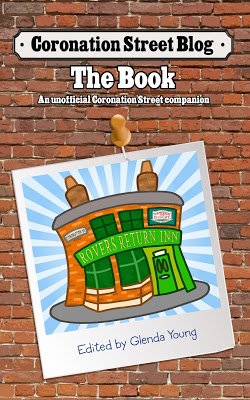 NEW! Coronation Street Blog - the book.
A must for all Corrie fans!
Please read
our advice for leaving comments on the Coronation Street Blog
All original work on the Coronation Street Blog is covered by a
Creative Commons License