FRIDAY 17TH FEBRUARY
BETHANY PLAYS WITH FIRE OUT ON THE TOWN Having heard a report on the radio about the missing teenage girl, Sarah warns Bethany to be extra vigilant. Bethany masks her concern. With Nathan still asking her to give him an alibi she is torn.
PETER AND NICK DREAD WHAT'S HAPPENED TO SIMON Toyah's hurt to discover she's not been invited to Nick and Leanne's wedding. Toyah has a quiet word with Nick and suggests Peter should be allowed to spend more time with Simon. Once at Peter's Simon tells him he is missing a party at the Trafford centre so Peter agrees to drop him off. But later when he can't get hold of Simon on his mobile he panics.
IT'S BACK TO REALITY FOR STEVE AND MICHELLE Steve and Michelle return from Ireland. Steve's taken aback to see Leanne looking so pregnant. Liz is pleased to see Michelle and Steve looking so well. As Michelle heads off to bed, Liz hands Steve the urn containing Ruairi's ashes.
ELSEWHERE Alya, Rana and Kate heads into town to celebrate Alya's birthday. As Adam waits for his interview in a solicitor's office he chats up Trina, the receptionist and invites her out for a drink.
FRIDAY 17TH FEBRUARY
BETHANY STEPS INTO THE DRAGON'S LAIR Choosing Nathan over Rana, Bethany climbs into his car. Nathan takes Bethany back to his flat. Bethany apologises profusely for questioning his innocence and swears that from now on she will trust him implicitly. Nathan kisses her passionately.
LEANNE'S WORDS GALVANISE PETER AND TOYAH Peter and Nick set off in search of Simon leaving Toyah at home in case he calls. Leanne calls at the flower shop flat wanting to know where Nick and Simon have got to. Toyah is forced to admit that they let Simon go to a party at the Trafford Centre and they haven't seen him since. Leanne's beside herself. Leanne tears a strip off Toyah and Peter for their irresponsible behaviour and tells Toyah that she wouldn't understand as she's not a mother. Toyah's cut to the quick.
MICHELLE STEVE As Liz and Steve tentatively hand over Ruairi's ashes, Michelle breaks down and Steve does his best to comfort her.
ELSEWHERE Adam takes Trina to the bistro, plies her with wine and quizzes her about their dodgy drug-dealing client Ronan. Settling himself in a corner of the pub, Daniel immerses himself in Moby Dick. Adam takes Trina back to the flat and telling Adam he'd be best to turn his music up, leads her into his bedroom. Daniel fails to hide his irritation. Alya, Kate and Rana thoroughly enjoy themselves in town.
Like us on Facebook | Follow us on Twitter | Download our free App | Visit Corrie.net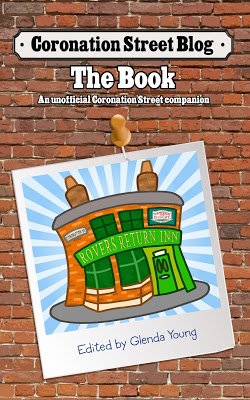 NEW! Coronation Street Blog - the book.
A must for all Corrie fans!
Please read
our advice for leaving comments on the Coronation Street Blog
All original work on the Coronation Street Blog is covered by a
Creative Commons License