Conversation Street, the Corrie podcast
, have been keeping fit the Corrie way! To explain all, it's over to Gemma and Michael for part one in an exclusive weekly series of blog posts specially for us at the Coronation Street Blog.
"If you listen to our podcast or follow us on Twitter, you'll know that aside from luring in neighbours' cats, our other recent endeavour has been trying to lose a bit of weight and get fit for the New Year. We're no strangers to fitness, but, not really being ones for the gym, have amassed a number of exercise DVDs – Jillian Michaels and Davina McCall being our personal favourites.
This year, though, we thought we'd try something different: we're big Corrie fans after all, so why not give some of the DVDs featuring stars of the Street a try? Thanks to some bargain hunting on Amazon, we were able to acquire around ten workout DVDs for under £20, and over the next few weeks we'll be sharing our progress with you in regular updates!
When it comes to Corrie fitness DVDs, there's only one 'official' title that we could find –
Coronation Street Funk Fit from 2004
, which features Tina O'Brien (Sarah-Louise Platt), Nikki Sanderson (Candice Stowe) and Lucy-Jo Hudson (Katy Harris). However, plenty of other Corrie stars have produced get fit programmes – some of them linked to a personal weight-loss experience, and some of them based around a life-long commitment to working out and keeping fit. The themes range from dancing to HIIT (high intensity interval training – the latest development in exercise research), and all of them promise great results as long as you commit yourself.
We'll be reviewing each one as the weeks go by, starting with
Dance It Off with Vicky Binns
from 2007. Vicky played Molly Dobbs in Coronation Street and was famously killed off in the tram crash of 2010.
Kevin Webster and Molly Dobb
During the workouts on her DVD, she demonstrates various seductive moves that she would no doubt later use on Kevin to lure him away from Sally. Decked out in a silver sports bra, along with trainer Rachel Ravenscroft, she dances her way through Street Heat, Urban Burn, Power Groove and Core Crunch, all of which are around 10-15 minutes in length and involve plyometrics (basically jump moves like squat jumps), side lunges, hip thrusts, leg curls, grape vines and even a bit of cardio boxing. Rachel leads the workout, with Vicky following along and adding the odd comment now and then.
Rachel is a great coach, and provides ample cues for what's coming up next, meaning it's easy to follow along, even when the dances get more elaborate as they go along. (Even Michael, who is chronically uncoordinated and uninterested in dancing, was able to keep up most of the time!) The music is a fairly generic techno style, which is fine, but not exactly our cup of tea!
Included on the DVD are some fairly simple dietary guidelines under the header Eating Plan – which contain recipes for breakfasts (250 calories), lunches (350 calories), dinners (400 calories) and snacks (100 calories). You're advised to eat one breakfast, one lunch, one dinner and two snacks a day, plus 600ml milk and 8 glasses of water a day. We didn't follow this plan, but it'll provide between 1200-1300 calories a day, which is fairly standard for a woman wanting to lose weight. (If you'd like to know more about how many calories you need to eat to lose weight, go to www.sailrabbit.com/bmr to input your details!)
To find out more about our podcast, search for Conversation Street on iTunes, or go to conversationstreet.podbean.com. If you want to follow Gemma's blog, all about her fitness journey, and her love of food and fashion, head to
www.foodfashfit.com
!
Conversation Street Podcast webpage / twitter / facebook
Like us on Facebook | Follow us on Twitter | Download our free App | Visit Corrie.net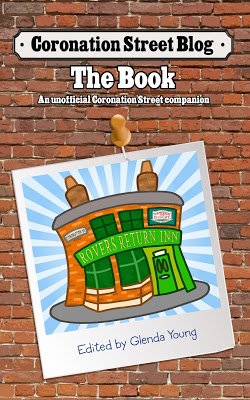 NEW! Coronation Street Blog - the book.
A must for all Corrie fans!
Please read
our advice for leaving comments on the Coronation Street Blog
All original work on the Coronation Street Blog is covered by a
Creative Commons License