Poor Eva Price finds herself on the receiving end of Michelle Connor's wrath tonight (Monday) in Coronation Street.
Following Friday night's shock revelation that Steve McDonald is the father of Leanne's baby Michelle has come out fighting - literally.
After punching Leanne, and giving her a bloody nose in the bistro kitchen, Michelle turns her attentions to Leanne's sister Eva when the pair argue over Michelle locking Steve and Liz out of the Rovers.
Determined to ruin Steve, Michelle holds a lock in and dishes out free drinks to the punters. When Eva tries to stop her she sees red and tells her to leave but when Eva refuses a fight breaks out and Michelle drags a screaming Eva out of the pub by her hair!
The catfight is the latest dramatic development in the storyline which looks set to continue for weeks to come as Steve and Michelle play out their very messy break up in public.
Cath Tyldesley said: "It was brilliant, I have wanted Eva to have a scrap for ages. I think Eva would do quite well in a proper fight as she is feisty but she is taken a bit by surprise by Michelle. When I told my husband Tom that I had a cat fight coming up with Kym Marsh his words were 'Salford vs Wigan! This will be a god ep!"
Like us on Facebook | Follow us on Twitter | Download our free App | Visit Corrie.net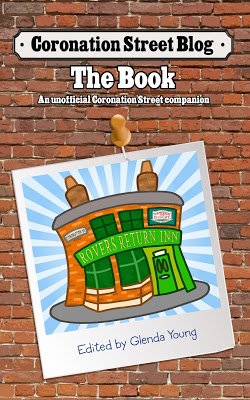 NEW! Coronation Street Blog - the book.
A must for all Corrie fans!
Please read
our advice for leaving comments on the Coronation Street Blog
All original work on the Coronation Street Blog is covered by a
Creative Commons License