Corrie weekly updates from 1995
All the wit and warmth of Weatherfield
None of the waffle

Available from

amazon.co.uk

or

amazon.com
This week's Coronation Street continued its powerful telling of Steve and Michelle's baby story and it would be wrong to start anywhere other than that in this week's update. On a quiet beach, Steve and Michelle scatter baby Ruari's ashes and there wasn't a dry eye on our sofa, it was heartbreaking. Steve draws a heart in the sand with their three initials – S, M and R. Then, when Michelle finds out that Leanne's given birth to her son (more on that in the next para!) she decides to go and see the baby. Michelle's resolve fails her when she's nursing Leanne's newborn in her arms and my heart broke all over again. Steve decides against going to see the baby and stays away from Leanne and his son.
But when Steve and Michelle's quiet night out in the bistro coincides with the Platt's party to wet the baby's head, that's when Steve's baby bombshell is dropped. There's a commotion at the bistro bar and glasses are smashed so David hands the baby to the person nearest to him as he dashes to help at the bar. And the person nearest to David is … you guessed it, Steve. It's too much for Steve to bear, looking into the eyes of his new baby son and he stuns everyone when he reveals that Oliver is his. Well, you can imagine.
Michelle runs to the kitchen to throw up in the sink as the shock hits her hard. Leanne goes to try to comfort her but Michelle wallops her around the chops and gives her a bloody nose. In this kitchen scene between Leanne and Michelle, I had to choke back the tears once more as Michelle struggled to cope with shock and betrayal of the very worst kind. And when she finds out later that even Liz knew, well, it sends Michelle to a very dark place. Robert takes it upon himself to be the hero of the hour and goes looking for Michelle, he hesitates at the door of the Rovers and when he finds it locked he takes out his phone to ring her. "Leave her alone!" I shouted at the telly – and you can always tell when I'm enjoying my Corrie 'cos I shout at the telly a lot. Robert puts his phone away, but his predatory manner is unsettling, to say the least.
And now, let's backtrack a little to Leanne giving birth. Little Liam lets Darryl the rat escape and it chews through cables at Victoria Court causing the lifts to break down. Well, the lift conks out with Leanne and Toyah inside, having a big argument over Peter (who else?). Leanne's waters break and she goes into labour. Neither of their phones will work and they yell for help. Robert calls an ambulance. But he doesn't think to call a lift engineer and Robert can't find a crow bar to open the lift. Where's Richard Hillman when you need him? Then, bizarrely, Johnny turns up. As does, Eva, Sarah, Bethany, Nick and Rana. When the lift doors eventually swing open as the two ambulance men arrive, Leanne's given birth to a baby boy, she and Toyah have made up, and half the street is gawping into the lift at Leanne.
Elsewhere this week, there was more uncomfortable viewing as Nathan works his way into Bethany's trust and affections. He steals her phone then gives her a new one. Sarah's not happy about any of this but is powerless to stop it, so far.
In the Kabin, there's a bit of flirting going on in front of the Lemon Sherberts between Brian and Cathy. She gives him some tips on living with Roy and tells him the right way to cook a shepherd's pie, just the way Roy likes it. It's clear there's a spark between the two of them but Brian keeps their friendship a secret from Roy, for now.
Over at the factory, Jenny flaming Bradley decides on a spot of blackmail after Richard Drake turns down the chance to buy Underworld's new line in mastectomy bras. When Jenny spots Richard's hand on his secretary's bum in a photograph, she tells him if he doesn't place the order with the factory, she'll show the photo to his wife. Not only does Richard Drake place the order, Jenny makes him double it too. Aidan's not best pleased when he finds out that Jenny's now working in the office instead of on the factory floor but even he has to secretly admire her guile at getting work for the girls.
And finally, Liam and Eva visit Maria in prison this week. Despite Maria's wishes because of her feelings for Aidan, she agrees to let Liam move in with Aidan and Eva in the flat.
And that's just about that for this week.
Remember, you can sign up to get these Corrie weekly updates by email at
http://www.corrie.net/updates/weekly/subscribe.htm
This week's writers were John Kerr (Monday double); Mark Wadlow (Wednesday); Joe Turner (Friday double). Find out all about the Coronation Street writing team at
Coronation Street Blog: Exclusive: All Current Corrie writers online
Glenda Young
--
Blogging away merrily at
Flaming Nora
Website:
glendayoungbooks.com
Like us on Facebook | Follow us on Twitter | Download our free App | Visit Corrie.net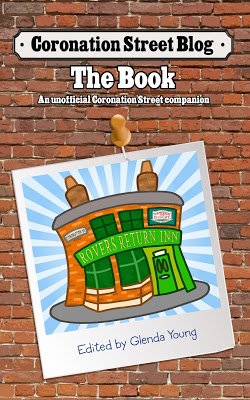 NEW! Coronation Street Blog - the book.
A must for all Corrie fans!
Please read
our advice for leaving comments on the Coronation Street Blog
All original work on the Coronation Street Blog is covered by a
Creative Commons License