A friendship on the cobbles which for me is priceless is the relationship between Todd Grimshaw (
played by Bruno Langley
) and Sarah Platt (
played by Tina O'Brien
).
Todd and Sarah have had probably one of the most tumultuous relationships and where they are now really strikes something with me. Who can forget Todd and Sarah's romance? Sure, there was Candice, but Sarah was Todd's first love and I personally think that love never died down. When Sarah was just 16, they seemed to have their lives mapped out together; they had a baby on the way, they had their own flat, they were going to get married. If it wasn't for Todd's sexuality, I'm hopeful they'd still be together now. But that's where it came apart at the seams for the pair; Todd fell in love with male nurse, Karl Foster. This ripped Todd and Sarah apart and not long after, Sarah went into labour early with their son, Billy, who tragically passed away.
Years later during Todd's big return in 2013, Gail and Nick were less than pleased about seeing him again, recalling all that'd happened between him and Sarah to fill Gloria in. I'm not sure if the writers were in fact notifying Gloria or just jogging the viewer's memories about the bad blood between the Platt's and Grimshaw's.
While we were reminded that Sarah's family were still against Todd, it was refreshing to see Todd and Sarah reunite following Sarah's 2015 return. Although I adore the fact they were pleased to see each other, I was a little bit confused seeing as the last time they saw each other in 2007, it was a less than happy reunion. Nevertheless, it seems their broken relationship was a thing of the past. As time went on, they were soon thrown into a storyline together when Sarah fell pregnant with Harry. We saw Todd become Sarah's rock, a pillar to lean on when she had no one else to turn to. Like I've mentioned in the past, this is when we started to see a softer side of Todd emerge and it was really lovely to see Todd interact like that with someone, especially Sarah.
One particular episode I'm fond of is where Sarah went into labour five weeks early with Harry. She was adamant about having Todd with her and was terrified that this was a repeat of what she went through with their son. For me it was brilliant to have this mentioned so much, with Todd even shedding a tear just thinking about it.
Followed by Todd's continued support, Sarah asked Todd if he would be Harry's Godfather. The fact that Todd still plays a big part in Sarah's life shows a long-standing relationship that not many characters experience. Todd maintained his loyalty to Sarah following the discovery of Callum Logan's body. Sarah unintentionally led Todd to believe that she was the one who murdered him and while he was oblivious at the time to his real killer, he lied to the police about Tony to protect her as much as Jason. However, Todd was further thrown into the mix when Sarah blurted out that it was in fact Kylie who murdered Callum. This then became a question of morals for Todd; does he keep up his loyalty to Sarah and continue lying or come clean and clear Jason's conscience?
After a heartfelt scene between the two where Sarah explained exactly what happened that night, Todd agreed to keep quiet. We were again reminded of the strong bond between these two characters when Sarah reminded Todd that she loves him and that despite everything, he remains her best friend. Todd's relationship with Bethany is also delightful to watch as he's obviously still protective over her as well.
I love their interaction together and I'm excited to see where future storylines take Todd and Sarah!
Written by Sophie Williams
Like us on Facebook | Follow us on Twitter | Download our free App | Visit Corrie.net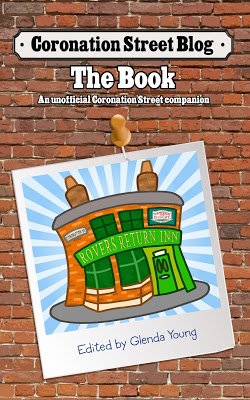 NEW! Coronation Street Blog - the book.
A must for all Corrie fans!
Please read
our advice for leaving comments on the Coronation Street Blog
All original work on the Coronation Street Blog is covered by a
Creative Commons License