There was a darkness to Friday evening's double Corrie, not least because most of the first, and the entire second episode, took place at night. It seems an understatement to describe as unsettling Nathan's continued manipulation of Bethany. Rejecting her when she won't give him an alibi, he then refuses to accept her apology after she hears that the missing girl he was questioned about by the police had in fact gone to Tenerife with friends. Nathan takes the opportunity to influence her further by comparing her lack of trust in him with the faith he had in her and this sees Bethany pleading with him, albeit unwarrantedly, for forgiveness. Mel is conveniently on hand to comfort repentant Bethany, and convince her to go to town for drinks, all at his behest.
If Nathan is unnerving and creepy, then Mel adds another sinister dimension to all of this as she gets Bethany drunk and convinces her to stay out all night, even taking her phone which ensures she won't have seen Sarah's text telling her to be home by midnight. Mel seems to waver at a couple of points, but persists nonetheless and you'd wonder if the bruises seen on her arm might have something to do with her involvement. As Bethany staggers down the street alone, Mel set to follow behind, Rana and Nathan stumble upon her, one after the other. I thought Rana's disconcerted reaction to Nathan's arrival was very authentic, so much so that I couldn't believe she didn't follow through with her insistence that Bethany come with her. Although, it must be acknowledged that Bethany did choose Nathan and this may have made it difficult for Rana. Indeed, it continued to weigh on Rana's mind, as she mentioned it when she rejoined Alya and Kate to continue their night out.
What occurs in Nathan's flat is probably one of the most disturbing things I've seen on Coronation Street to date. After sobering her up, and putting her on the sofa with a duvet, Bethany decides to join him in his room. The particular shot where we see him sitting up in bed as she closes the door is chilling. While she's asleep, he even calls an interested party and brags about what has happened before rejoining her in bed. This was never going to be an easy watch, but nothing quite prepared me for actually seeing it. Both Chris Harper and Lu Fallon are doing a brilliant job with this distressing but important storyline.
Peter Barlow may have been the one to suggest a pizza night with Simon, but at the mere mention of a birthday party he's missing at the Trafford Centre, Peter has his coat on and car keys in hand to ship him off until no time in particular, even though Simon himself is happy where he is. Everyone's then frantic when they haven't heard from him and find that his mobile is going to voicemail. This gives Nick ample mileage to berate his nemesis as the dastardly duo go out to look for him, while Leanne subjects Toyah to similar back at the flat.
Once Simon is safely returned by one of Weatherfield Police's finest, both Peter and Toyah are rather nonchalant about the whole affair as Leanne and Nick seethe. It's a low blow from Leanne to point out that Toyah couldn't know what it's like to be a mother considering her struggles in that regard, but the latter seems more concerned at that comment than she should have been about what could have happened to Simon. It has to be said, Leanne and Nick's reaction was more in keeping with how you might feel if your child of 13 couldn't be found or contacted, and I'm afraid Peter and Toyah still aren't offering much in the chemistry stakes. Again, we know this because we've seen how great they can be with other partners.

Steve and Michelle return from Ireland rested and relaxed. I can relate to the copious amounts of strong tea and Irish breakfasts they mention, but there was a lot of talk about food and being fed, a tradition which seems to have bypassed me. I also had a little titter at the 'rolling hills' of lowland Kildare and, given it's inland, wondered in what county the beaches they walked on were situated. But, I digress. It's good to see her looking well, and the scene in which Liz returns Ruairi's ashes to them is heartrending.
There is an awkward encounter with Robert where Michelle makes her excuses and, wishing to be honest, later confesses to Steve that she attempted to kiss him. Steve's struggle with his own secret is writ large, but he says nothing. It's a genuine pity that he has this to hide, as Steve and Michelle have never appeared closer, and you'd have to think they couldn't survive as a couple if such a truth came to be revealed.
Where to start with Adam Barlow? He comes across as charmless, and yet manages to go for an interview in a solicitor's office, winkle out of the receptionist that he's been bumped for an urgent appointment with a drug dealing client, take her for wine in the Bistro, back to his flat, and straight to bed. She seems to be no fool, yet went along with it all without hesitation. My favourite part had to be Daniel on the sofa. As Adam stands brandishing a bottle and two glasses, nodding towards the bedroom, and smugly declaring that his uncle might like to turn the music up, Daniel still manages to come out winning.
These were a dark pair of episodes without much in the way of humour. Not even Alya's rather frantic birthday celebrations were enough to lighten the mood. Although, considering what befell Bethany, perhaps it was somehow appropriate on this occasion.
Like us on Facebook | Follow us on Twitter | Download our free App | Visit Corrie.net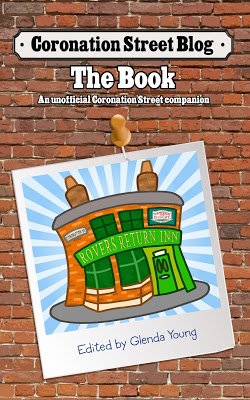 NEW! Coronation Street Blog - the book.
A must for all Corrie fans!
Please read
our advice for leaving comments on the Coronation Street Blog
All original work on the Coronation Street Blog is covered by a
Creative Commons License