Unfortunately, we haven't been able to get in as many workouts as we'd have liked this week due to home decorating taking over our lives for the past three days - still, that still kind of counts as exercise, right? Anyway, nearly got the new study done now - though if Pat Phelan does callouts to Southampton, we'd be willing to discuss anything he needed "taking care of" in exchange for him finishing it off for us, if you catch our drift...

We did manage to find the time for a few workouts at the beginning of the week, though, and in our third Corrie fitness blog, we'll be taking a look at
Dancemix Workout 2
, featuring ex-crimper Fiona Middleton, or rather her off screen alter ego, Angela Griffin.
The concept of the workout is that you boogie your weight off, with Angela claiming that she worked off her last stone dancing round her handbag. This is her second Dancemix DVD, her first reportedly seeing her lose two stone!

Wearing a bright yellow top, skirt and trainers, Angela bops along obediently to the instruction of her coach, Niki Wibrow. Niki is a smiley, no-nonsense kind of woman, the sort you'd expect to find working as a vet or doctor - she has a comforting sense of self-assuredness. In fact, with her blonde hair and London accent, she quite reminds us of Frankie Baldwin, actually. Angela stays chirpy and chatty throughout, giving a positive vibe to the workout session and interjecting with the odd sarcastic comment every now and then about how difficult the moves are. Of all of the presenters in our workout collection, she's certainly one of our favourites. The backdrop to the DVD is a theatre, complete with ornate gold décor and a bar - much more interesting, we feel, than a generic gym background.
The DVD is split into a warmup, cool down, and three ten-minute workouts, each of which focuses on a different type of dance. The first section, Disco, is our favourite of the bunch, and probably the easiest one to keep up with (none of them are particularly taxing, to be fair, especially if you're used to strutting your stuff on the dance floor). Many of the moves in this section come straight from the warm up, so we felt right at home with what we were being asked to do. Next up comes Hi-Energy, an upbeat mix of kicks, taps, and hip shakes with a bit of freestyle thrown in for good measure. Finally, Funky House has shades of Tina Turner and contains a bunch of moves that made us feel like a couple of backing dancers from an RnB music video.
Despite the sections having you repeat the same motifs over and over again, building up into a full routine over time, none of the moves outstay their welcome. We never got bored of any of the dances; in fact, we enjoyed the feeling of confidence that came with knowing what was coming next, and were able to add our own little improvisations the more comfortable we got. Finally, the cool down is your standard set of stretches, along with some ab exercises - we're not particularly fans of those, and always find it a bit sneaky (though probably good for us!) when they're added to the mandatory final segment!

There's also an eating plan included on the DVD, which gives you a diet including recipes for breakfasts, lunches, dinner and snacks. The quantities are fairly vague, which means you'll need to keep an eye on how many calories you're using (we recommend logging everything with a phone app like MyFitnessPal).
All in all, even though the routines in Dancemix 2 don't leave us especially sweaty or out of breath, this is one of our favourites if we want something cheerful and fun to do, rather than a more 'standard' set of exercises you might find on the likes of
Kym Mars
h or
Debbie Rush's
DVDs.
Now, forward into week 4! Let's hope we can get back into our daily workout routine this week, and avoid the temptations of pancake day tomorrow...

To find out more about our podcast, search for Conversation Street on iTunes, or go to conversationstreet.podbean.com
If you want to follow Gemma's blog, all about her fitness journey, and her love of food and fashion, head to
www.foodfashfit.com
!
Like us on Facebook | Follow us on Twitter | Download our free App | Visit Corrie.net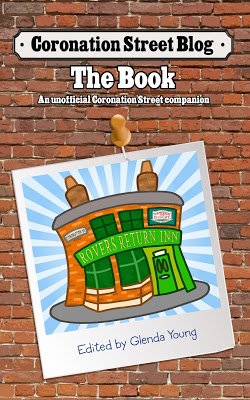 NEW! Coronation Street Blog - the book.
A must for all Corrie fans!
Please read
our advice for leaving comments on the Coronation Street Blog
All original work on the Coronation Street Blog is covered by a
Creative Commons License