It was on this Blog last month that I discovered Simon Gregson is offering personalised video messages for fans.
My Dad had his 70th birthday coming up and unfortunately we knew he'd be spending his big day in hospital. I thought I would check out the Celebrity Video Messages website with a view to cheering my Dad up with some birthday wishes from the actor who portrays one of his favourite Corrie characters.
You pay your 30 quid and order a message from the celebrity of your choice, submitting a basic script of key information to be delivered in front of the camera and then you get an email when it has been recorded. It sounded like a bit of fun so I gave it a go. A proportion of the proceeds go to charity too.
They say most videos are turned around within one to two weeks. Mine took 24 hours! I have to say that I was very pleased with the result and my Dad was delighted when I played it to him on the ward. I didn't tell him that I paid for it but created an air of mystery. Perhaps he thought it all came about through my Corrie blogging connections...
Here is the video. It looks like a Vlog directed by Sarah Platt but the content is great!
Anyway, I am pleased to say that my old man is out of hospital and recovering well after his operation – and he's got a copy of his video message to keep for posterity.
There are a few Corrie actors – past and present – on the CelebVM books. They will all set you back 30 notes. Well, except for Adam Rickitt – you get a fiver off for him.
It's my birthday in August and I've already told my nearest and dearest that they could do far worse than order up a customized, personalized, and unique video message from my favourite character, Peter Barlow. Toodle-pip!
By Martin Leay
Like us on Facebook | Follow us on Twitter | Download our free App | Visit Corrie.net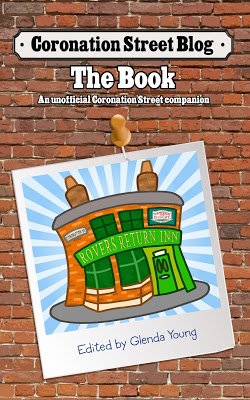 NEW! Coronation Street Blog - the book.
A must for all Corrie fans!
Please read
our advice for leaving comments on the Coronation Street Blog
All original work on the Coronation Street Blog is covered by a
Creative Commons License