Corrie weekly updates from 1995
All the wit and warmth of Weatherfield
None of the waffle

Available from

amazon.co.uk

or

amazon.com
Coronation Street's grooming storyline took a dark and sinister turn this week, as we all knew and feared it would. It starts when Sarah convinces her daughter to film her beauty vlogs at home on her phone rather than use Nathan's equipment at the salon. Nathan's not happy about this and gets Mel to 'dislike' Bethany's vlogs and leave nasty comments online. At Nathan's behest, Mel talks to Bethany and tells her that Nathan's upset she's not doing the vlogs with him any more. Bethany relents and sees Nathan again, just as the cops arrive and arrest him on suspicion of abducting a young, blonde girl who's gone missing.
Bethany has doubts about Nathan, proving that she's not completely gullible, but Nathan woos her with sweet words and kindness and says he had nothing to do with the girl's disappearance, but would Bethany provide an alibi for him any way? Well, Bethany's reluctant and says no, again proving she's got a mind of her own and knows right from wrong. But older, wiser, more devious Nathan knows how to manage her and it all starts to unfold in the most horrible way.
Pretending that he's hurt by Bethany's refusal to give him an alibi, even when the missing girl turns up in Tenerife with her mates, he makes Bethany beg for another chance with him. And beg she does. Then she goes out on a night out with Mel who plies her with drink and steals her phone. Drunk and alone Bethany wanders the streets only to be 'rescued' by Nathan who's there in his car at just the right time. Alya, Rana and Kate are on a night out in town and Rana sees what's going on. She offers to take Bethany home, or at least ring her mum, but Nathan bundles Bethany into his car and drives her home to his flat.
It's all done very subtly, with Bethany truly believing that Nathan is on her side, a good guy who wants the best for her, someone who cares for her and cares about her. He suggests Bethany goes to sleep on the sofa but in the middle of the night she gets up and walks into Nathan's bedroom (where he is, very creepily, sitting up in bed playing with his, er, laptop). Bethany offers herself to Nathan, thinking that he loves her, and after they've done the deed he gets up out of bed and makes a phone call. "She's special, this one," he tells whoever he's talking to - and it's the start of what is going to be truly horrible viewing over the coming weeks.
Elsewhere this week, it's all going on for the Barlow bunch again. Adam sleeps with Rosie after she tells him about the drugs she's brought in from Miami. She even tells him where they're buried and he spends all night with a shovel on the allotment digging every patch up until he finds the goods. Sinead moves into Adam and Daniel's flat when Chesney chucks her out and Daniel and Ches have a fight. Ken's not best pleased about this new arrangement and tells Daniel how disappointed he is in his son for not putting his education first. I'm not entirely sure Daniel's all that happy either, so we'll have to see how this all pans out. Adam and Daniel are great together, to watch, that's for sure. After spending the night with Rosie, Adam wastes no time in securing another conquest when he chats up a secretary at the solicitor's office where he goes for an interview. He's hoping to transfer his legal qualifications from Canada to the UK and set up a back street practice with Todd. It's the 'Better Call Saul' of Coronation Street.
Luke offers to take Tracy away for a short break to Bristol to see if they can find missing Andy. When Phelan hears about the plan, he drops all kinds of poison into Tracy's mind about what Luke's really up to. Can he afford a trip to Bristol, Phelan asks. Where's the money coming from, Phelan asks. Tracy storms round to see Luke and using Phelan's words she asks Luke the same questions. Phelan's relieved when the search party for missing Andy's called off. Also this week, Phelan's still working on Ken Barlow's new kitchen and asks Ken to pay him the money up front. But why would he ask, and why would Ken pay?
Over at the garage, Sophie resigns as Kev's in a tight spot with the finances there. She starts working for Tim on his window cleaning round instead. Meanwhile, inside Sally's house Tim is trying to figure out Rosie and doesn't know where to put himself when she starts exercising in the living room wearing a teeny little bra top.
Up in Victoria Court, Leanne and Nick plan a Christmas wedding and send out 'save the date' cards to everyone except Toyah and Eva. Simon has a go at both of them and tells them to leave his mum alone as her blood pressure's sky high. It rises even further when Simon's brought home by a copper after Peter allows him to go to a party at the Trafford Centre which Leanne knew nothing about.
And finally this week, Steve and Michelle return from Ireland a little more relaxed than when they went away. While they've been away Liz collects Ruari's ashes for them and there's tears in the back room of the Rovers all over again. Michelle also comes clean to Steve about kissing Robert when she wasn't in her right mind.
And that's just about that for this week.
Remember, you can sign up to get these Corrie weekly updates by email at
http://www.corrie.net/updates/weekly/subscribe.htm
This week's writers were Martin Allen (Monday double), Simon Crowther (Wednesday), Damon Alexis-Rochefort (Thursday) and Susan Oudot (Friday double). Find out all about the Coronation Street writing team at
Coronation Street Blog: Exclusive: All Current Corrie writers online
Glenda Young
--
Blogging away merrily at
Flaming Nora
Website:
glendayoungbooks.com
Like us on Facebook | Follow us on Twitter | Download our free App | Visit Corrie.net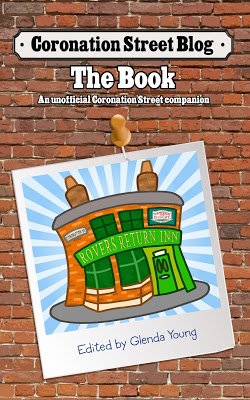 NEW! Coronation Street Blog - the book.
A must for all Corrie fans!
Please read
our advice for leaving comments on the Coronation Street Blog
All original work on the Coronation Street Blog is covered by a
Creative Commons License