FRIDAY 24TH FEBRUARY
BABY OLLY IS WELCOMED TO THE WORLD
View the ITV Preview Pictures showing the moment Steve holds his baby in his arms
When Michelle confides in Steve that she'd like to try for another baby, Steve admits the idea scares him but suggests they discuss it over dinner at the bistro. After talking to David, Leanne tells Nick that she's had a change of heart and she wants his name on the birth certificate. Nick's thrilled but as they're about to leave, David stops them and explains that the Register Office will have to wait as Gail's organised a party in the bistro to celebrate the birth of their baby. As the Platts gather in the bistro, Michelle and Steve are forced to watch the party from their table, both struggling to mask their conflicting emotions.
JENNY REFUSES TO BE BEATEN Jenny resolves to try and win Richard Drake round but Johnny warns her she's wasting her time and could damage relations permanently. Jenny scrolls through some photos from the Gazette and after finding one of Richard Drake with his hand on his PA's bottom, prints it off, pleased with herself. What has Jenny got up her sleeve?
ELSEWHERE As Eva readies herself for visiting Maria in prison, Aidan masks his guilt. In the prison visiting room, Liam spots Maria and throws himself into her arms as Maria cries tears of relief. Yasmeen remarks that there's clearly a spark between Cathy and Brian, Cathy's bashful, admitting she finds him attractive. But how will she react when Brian invites her to join him for coffee?

FRIDAY 24TH FEBRUARY
BABY OLLY'S WELCOMING PARTY CONTINUES
JENNY AND AIDAN DECLARE BATTLE Aidan stumbles across the incriminating photo of Richard Drake on his computer and realises Jenny's intentions. Jenny spells out to Richard Drake that either he reinstates his order and doubles the quantity or his wife gets a copy of the photo. Richard's fuming. Will he admit defeat and bow down to Jenny's demands?
ELSEWHERE Under pressure from Liam, Maria reluctantly agrees he can stay with Eva and Aidan. Arriving home how will Aidan react to this? Cathy joins Brian for a drink in the Rovers.
Like us on Facebook | Follow us on Twitter | Download our free App | Visit Corrie.net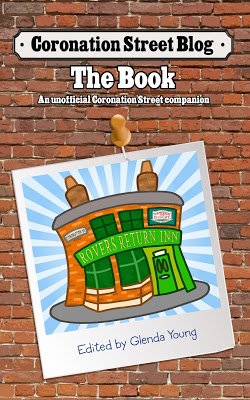 NEW! Coronation Street Blog - the book.
A must for all Corrie fans!
Please read
our advice for leaving comments on the Coronation Street Blog
All original work on the Coronation Street Blog is covered by a
Creative Commons License