MONDAY 20TH FEBRUARY
TOYAH'S DAY IS ANYTHING BUT UPLIFTING Peter explains to Ken how desperate Toyah is for a baby and persuades him to lend him the money for a consultation at a private fertility clinic. When Peter announces he's booked an appointment for this afternoon, Toyah's thrilled. But when she witnesses Leanne forgiving Eva for her part in keeping Toyah and Peter's relationship a secret, a jealous Toyah follows Leanne into the Victoria Court lift, where she rails at her for her jibe about her not being a mum. Suddenly the lift judders to a halt. Having discovered the alarm isn't working and there's no phone signal, the girls start to panic, especially when Leanne's waters break!
MICHELLE AND STEVE BID A FINAL FAREWELL TO RUAIRI Steve tells Robert that Michelle confessed to trying to kiss him but deeply regrets it and he hopes they can remains friends. Will Robert mask his hurt? Steve and Michelle head off to the seaside with Ruairi's ashes.
SARAH FUMES WHEN BETHANY'S LIE IS EXPOSED After spending the night at Nathan's, Bethany returns home and lies to Sarah and Gary, telling them that someone nicked her phone and she crashed on Mel's sofa. But when Rana and Kate enquire after Bethany and reveal that they found her drunk in town before heading off with some bloke who she knew, Sarah's fuming.
ELSEWHERE Craig's annoyed to discover Liam's let Darryl escape from his cage. Brian assures Roy he'll look for alternative lodgings when they continue to rub each other up the wrong way.
MONDAY 20TH FEBRUARY
THERE'S NEW LIFE ON CORONATION STREET When Toyah fails to show at the fertility clinic a puzzled Peter apologises and leaves. Meanwhile upon hearing Leanne's cries, Robert sets off to get help. As Leanne's contractions increase, she cries out in pain and grips Toyah's hand. In the lobby, Rana shouts up to Leanne, offering her birthing advice. The ambulance arrives at Victoria Court, as do a panicked Nick and Eva, but will they be able to get into the lift to help Leanne before her baby is born? And will the dramatic events of the day bring about a reconciliation between the sisters?
NATHAN DRAWS BETHANY DEEPER INTO HIS WEB OF SIN Sarah confronts Bethany who under pressure admits she stayed at Nathan's flat, he's her boyfriend and he rescued her when she collapsed. When Sarah wants to know if they've had sex, Bethany assures her they haven't but is she telling the truth? As their row escalates, Sarah bans Bethany from seeing Nathan again. Will Bethany accept this or has Nathan got her just where he wants her?
ELSEWHERE At Cathy's suggestion, Brian cooks Roy's favourite meal and apologises for failing to pull his weight. Will Roy relent and agree he can stay?
Like us on Facebook | Follow us on Twitter | Download our free App | Visit Corrie.net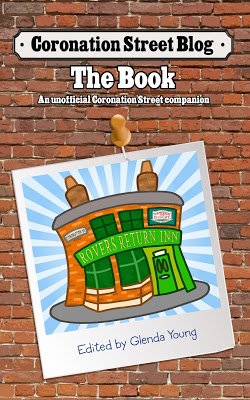 NEW! Coronation Street Blog - the book.
A must for all Corrie fans!
Please read
our advice for leaving comments on the Coronation Street Blog
All original work on the Coronation Street Blog is covered by a
Creative Commons License