Our blogger Rachel Stevenson normally writes her fantastic Monday night episode reviews but is away on holiday for three weeks. While she's away, Coronation Street Blog reader Ryan Oxley has kindly offered to step into Rachel's shoes to bring you his review of Monday night's episodes.
And so, it's over to Ryan...
The stand out quote for me in tonight's double was from Adam Baldwin describing the blossoming valentines that are Daniel and Sinead 'the romance that everyone is talking about, I'm thinking black and white movies, meaningful looks', 'better than meaningless!' fired back Sinead. It was an interesting response which may lay resonance later.
Over at Number 6, Yasmeen is popping pills, (amitriptyline -prescribed for MS & Stress – cheers Corrie) and it's a suitable plot device to bring Alya and Zeedan back into sibling accord. Yasmeen is a character I am continuing to warm too; she could serve well as a Corrie 'battleaxe' in future.
Kev's woes worsen at the garage as he may have to lay off his Sophie but she resigns, returns her shares and takes over Tim's window cleaning company; a quick career turnaround. Unlike her sister Rosie, who's gone from Modelling in Miami to hiding drugs in allotments. Suitably worried about being No.1 in Weatherfield's drugs cartel (and prison food) Rosie unearths her woes to Adam Baldwin. Adam then proceeds to dig in the dark, in hope of raising ground, the drugs, and essential funds for his longed for litigious law firm.
Meanwhile, injured garage lackey Luke limps lustfully into a Bristol break (or brake?) with a disappointed Tracy, in search of the elusive Andy. I am convinced Phelan has 'removed' Andy from the cobbles but as he's busy fitting Ken's new kitchen, it appears its business as usual for Phelan. Ken swiftly arranges a meeting with an MA tutor for a distracted Daniel, who has Sinead pleading to move in. With his knuckles scraping already, the rather effeminate intellectual Daniel appears to be showing signs of repressed masculinity. Sinead completely ignores Chesney's warning, an equally discouraged Daniel, and moves in with her 'Pet Virgin' anyway. Ken meets his MA mate whom implies that Ken is looking well following his stroke and has another 20 years in him, if Ken wants them. A very subtle line which may have implications for Ken's DNR storyline, it got me thinking.
Also in The Rovers Return it's the return of Mary (who may or may not have been in Africa with her newfound son?) and long may Mary reign. She hilariously dismays and engages a forlorn suitor of Rana and suitably perplexed, the unknown regular leaves the ladies to it. An invite for Ayla's birthday is in the bag for Mary.
Meanwhile, young Bethany's social media career appears to be emerging into the next Zoella. After some poor online reviews, she's ready to quit but with rarely seen encouragement from Sarah and a gift from sleazy Nathan, she's ready to return to vlogging. The young girl may well be falling into a trap.
Which brings me back to Sinead, who is also falling into a trap. After being emotionally drained throughout tonight's episodes, a heated and wronged Fiz lays into her, she wears horrible 'tracky' bottoms to work and exclaims of being 'I'm upset you know' and 'I didn't want any of this'.
Meaningless?... I've got a feeling it may well be with the 'Pet virgin' but we will wait and see.
Ryan B Oxley
NEW MUSIC DJ
www.penistonefm.co.uk/listenlive
Twitter:
@rybazoxo
NEW MUSIC BLOG
www.drunkonmusic.co.uk
/
www.facebook.com/DrunkOnMusic2
Twitter:
@drunkonmusic2
@rybazoxo
Music blog writer @Drunkonmusic2
Like us on Facebook | Follow us on Twitter | Download our free App | Visit Corrie.net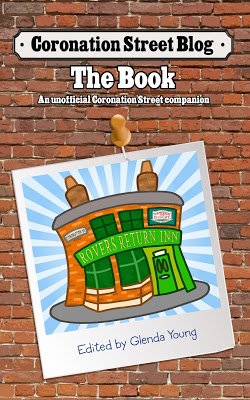 NEW! Coronation Street Blog - the book.
A must for all Corrie fans!
Please read
our advice for leaving comments on the Coronation Street Blog
All original work on the Coronation Street Blog is covered by a
Creative Commons License