Deborah McAndrew has always been one of my favourite Coronation Street actors. Deborah first appeared in The Street towards the end of 1990, which was around the time I started watching the show. As Angie Freeman, she was an immediate hit and over the next four years on and off throughout the decade she entertained millions of Corrie fans. Angie was a design student who lodged with Curly Watts. I seem to remember Curly had quite a soft spot for Ms Freeman...just don't mention the red wine! Angie was a modern Corrie woman - capable, intelligent with both quick wit and temper! Easy to love really!
Deborah very kindly agreed to answer some of my questions, both on her time in Coronation Street and her more recent work as a playwright, working with Northern Broadsides and as Creative Director at Claybody Theatre.
- First of all I have to ask a few questions about Coronation Street. What are your memories of joining the show as Angie back in 1990?
I remember being surprised to get the job, as it was my first professional acting job. I remember the director, Brian Mills, being very kind. I remember thinking that the three month contract meant I could pay off my student overdraft. I never thought I'd end up being there for three years!
- I grew up watching Corrie in the 90s and Angie was always one of my favourite characters. Why do you think she was so popular at the time and has remained a fondly remembered character ever since?
I think Angie was a nice person, but not too sugary. She was fiery and flawed (a lot like me in that respect) The writers gave me some great one-liners, especially in scenes with Curly and Raquel. Because Angie was a smart girl she could always be given the quick come-back, which was great to play. I don't think I realised at the time how popular the character was with viewers - you find yourself in a bit of a bubble. It's difficult to know what the secret to a good 'Corrie' character is, but I think comedy is a key ingredient.
- You probably worked most closely with Kevin Kennedy, who played Curly. What was he like to work with?
I enjoyed the whole Angie/Curly/Raquel love triangle and became very fond of Kev. It's no secret that he had a lot of problems back in the early and mid 1990s, and I did see some of that troubled time for him. I'm pleased to say that I saw him very recently when he was on tour with The Commitments, and we had a cuppa after the show. He's really happy and loving life now, and doing great work with his charity for people suffering alcoholism and other addictive disorders. He's a great guy.
- You appeared in Corrie in an era that still featured many classic characters and big names. What was it like to work with people like Julie Goodyear, Liz Dawn and Betty Driver?
At the time I just did my job. You can't go into work every day thinking you're working with 'legends' - it would be paralysing. However, with hindsight I do feel very privileged to have been part of the show at a time when those iconic characters were at their height - particularly the strong women that have always been the cornerstones of the show. They were all wonderful.
- We've seen Sally Ann Matthews reprise her role as Jenny Bradley over the last year or so. Would you ever consider a Corrie comeback?
I guess it's dangerous to ever say 'never', but I can't imagine a time when it would be right either for me or the show for Angie to make a comeback. My Corrie years belongs to another era, another life, and I'm content with that.
- I'm interested in how you made the transition from Coronation Street actor to playwright. What was that process like and which do you find the most rewarding?
I was always a writer really, and always a theatre creature. I started in Corrie, and it's what people know me for - but in a career that now spans almost 27 years I actually spent less than 4 of those years in Corrie. The other 23 years have been in the theatre and on radio, as an actor and writer. There was no transition really. I just grew into my own skin and the work for which I was always destined.
- I've heard great things about Northern Broadsides - we've written about the company before on the blog. What is it like to work with that team?
When I joined Northern Broadsides as an actor in 1995 it felt like I'd found my spiritual home. After 22 years association with the company, and over half of that time as a writer, there is no doubt that Broadsides has been the most important creative relationship of my career. I have definitely spent some of the happiest times of my life with the team, I met my husband Conrad Nelson there, and most of our closest friends are connected to Broadsides too. From the very start Barrie Rutter always gave me great support as an actor and when my focus switched to writing he never doubted me.
- You have also set up your own company, Claybody Theatre. Can you tell me a little more about that?
Claybody Theatre Company came about because I had written a play called Ugly Duck about my adopted home city of Stoke-on-Trent, and I wanted to put it on. I applied for Arts Council funding and got it. What followed was a successful site-specific production of the play, directed by Conrad, a remount of the production for the New Vic Theatre, and subsequent commissions and projects for the new company. It wasn't my plan to be running a theatre company, but it's just happened. Our mission statement is to create work that is inspired by the people, history and heritage of Stoke-on-Trent, and present these plays in non-theatre spaces in the city.
- Away from television and theatre, you've also done a great deal of radio drama, mainly for the BBC. Why do you enjoy acting on radio as much as you obviously do?
I love doing radio drama. It's the purest form of drama really - just actors and text. I get to play characters on the radio that I'd never be cast as if you could see me. The voice is so much more flexible than the body. I've also loved doing the radio over the years because it has kept me in touch with acting while my daughter was growing up. These short contracts - either in Manchester or Birmingham - were jobs I could do when she was little and Con was away on tour.
- Finally, what's next for you?
At the moment my adaptation of Cyrano is on tour with Northern Broadsides, directed by Conrad Nelson. It's a lovely show. I'm really proud of the wonderful cast, and it's getting great reviews. Next up is another adaptation I've done of Anne Bronte's novel The Tenant of Wildfell Hall, which opens at Bolton Octagon at the end of March and then goes to York Theatre Royal. After that my adaptation of Anna of the Five Towns will be on at the New Vic Theatre, to celebrate 150 years since the birth of the author Arnold Bennett. Then I'm hoping Claybody Theatre will be producing a new play of mine in the autumn (funding permitting) before my adaptation of A Christmas Carol rounds off my year at Hull Truck Theatre. I've done the Chester Mystery Plays for 2018, which will be performed in the Cathedral in the summer, and I also have another couple of commissions coming up for next year. There might be a bit of radio drama dotted around all that writing, which would be lovely. I'm very busy - but very happy to be so.
I'd like to thank Deborah for taking the time to answer my questions and I wish her all the best with all her future projects. Thanks also to Fay at Pemberton Associates for helping to set up the interview.
You can find out more about Northern Broadsides here
More information on the Claybody Theatre Company here
And you call follow Deborah on Twitter here
And if you are so inclined, you can follow me on Twitter @GraemeN82
Like us on Facebook | Follow us on Twitter | Download our free App | Visit Corrie.net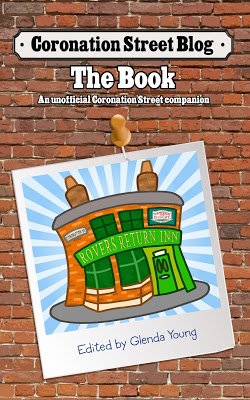 NEW! Coronation Street Blog - the book.
A must for all Corrie fans!
Please read
our advice for leaving comments on the Coronation Street Blog
All original work on the Coronation Street Blog is covered by a
Creative Commons License