Another fab guest blog post from Sophie Williams who is on twitter @
sophie_jw26
Fancy writing a guest blog post for us? All details here!
Sophie recently wrote a guest blog psot for us all about Todd and Billy -
you can read it here
.
Today, Sophie writes about cobbles newcomer Shona.
One of the new faces on the cobbles is Shona Ramsey,
played by Julia Goulding
. Taken in by Billy Mayhew, the newcomer has been living at number 11 with the Grimshaws, despite Todd's warnings against her. However, in the past month or so, Shona has been seen to be proving that she isn't as bad as she may have first seemed ever since viewers saw her nab David Platt's wallet.
We saw that she shows signs of having a conscience after she looked thoughtfully at the photo of Kylie before returning David's wallet with more money than was originally in it. Once Shona had righted her wrong and been given a place to stay, next on the agenda was a job. Landing one at Roy's Rolls, it seems that she may be getting her life back on track after what seems to be years of hardship.
Not all is as it seems however as we know that Nathan, the older man currently grooming Bethany Platt, is her ex-boyfriend, or so she told Billy. Whenever it's revealed what exactly happened between the two of them is sure to be a cracking storyline, which I expect will tie in with Bethany somehow.
Shona has also caught the eye of Gemma Winter who couldn't seem to register where she'd seen Shona before. If viewers of Christmas Day 2016 cast their minds back, Shona's face dropped when Billy announced they were at Coronation Street
and her first question was asking if there was a kebab shop nearby
. Kylie was stabbed outside Prima Doner so is this just a coincidence or were the writers setting something up?
From what we've seen of Shona so far, she seems to be connected to David or Kylie in one way or another. Many theories have been floating around among fans. Some claim that Shona is related to Kylie, a long-lost sister for example. Other theories suggest that she is related to Clayton, Kylie's murderer. Whatever her relations, I am personally looking forward to see how Shona and David continue to behave round each other and will be looking to see how their fractious relationship develops.
Julia Goulding is doing a fabulous job with Shona and I'm really enjoying watching her so far. Obviously a character with a tragic past and many depths, I hope she remains a regular on our screens.
By Sophie Williams, twitter @
sophie_jw26

Fancy writing a guest blog post for us? All details here!
Like us on Facebook | Follow us on Twitter | Download our free App | Visit Corrie.net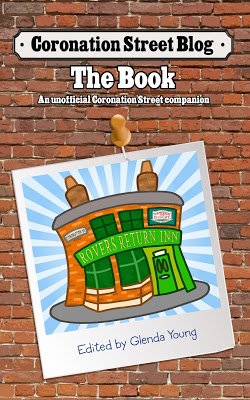 NEW! Coronation Street Blog - the book.
A must for all Corrie fans!
Please read
our advice for leaving comments on the Coronation Street Blog
All original work on the Coronation Street Blog is covered by a
Creative Commons License