Wednesday 1st February
CAN TOYAH GIVE UP HER DREAMS FOR PETER? Stunned to find out Toyah has kept her IVF attempts a secret from him Peter wonders what other lies she has told him and storms off to go on a taxi run. When his glamorous customer Chloe invites him into the hotel for a drink Peter accepts - has he gone back to his old ways? When Tim lets slip where Peter has been Toyah sees red. Toyah tracks Peter down to the flat and tears into him, convinced he slept with Chloe. Peter accuses Toyah of using him when all she really wants is a baby. Telling him it's over, Toyah storms out leaving Peter stunned. Back at the Bistro, Nick secretly shows Toyah the engagement ring he's bought for Leanne.
KEVIN KEEPS SALLY'S INTERVENTION FROM ANNA An uneasy Anna asks Adam his advice about how to make a personal injury claim and is uncomfortable about his suggestions that she would have to photograph her injuries - will she go ahead with the claim? Meanwhile Kevin gets an unexpected offer of help. When Kevin confides in Sally that he's got himself into financial straits, Sally insists she'll give him £7k towards Sophie's medical bill. Kevin's grateful. Later, determined to do what she can to help, Anna tells Kevin she's changed her mind and is willing to pursue a claim against David Platt unaware of Sally's offer which Kevin keeps to himself.
AMBITIOUS JENNY HAS A BUSINESS IDEA Jenny chats to Sally about her cancer check-up. When Sally mentions mastectomy bras, Jenny has a brainwave.
ELSEWHERE Ken calls the Barlows together and announces that he's going ahead with his DNR instruction and that with Adam's help, he's sorted out a new will.
Like us on Facebook | Follow us on Twitter | Download our free App | Visit Corrie.net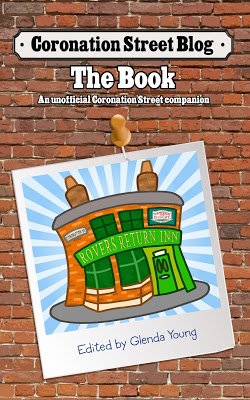 NEW! Coronation Street Blog - the book.
A must for all Corrie fans!
Please read
our advice for leaving comments on the Coronation Street Blog
All original work on the Coronation Street Blog is covered by a
Creative Commons License