Actor and writer Dave Dutton has returned to filming on Coronation Street - in his 11th role.
Dave has been papped by the Daily Mail this week - who fail spectacularly and call him Brian Packham. But it's Dave who's wearing the thigh-high boots, and he's made Chris Gascoyne, who plays Peter Barlow, giggle.
Dave's past 10 roles on Coronation Street are:
1.
Delivery man (1983) to Baldwin's Casuals
Eric Priestly
2. Eric Priestley (February 1985)

3. Gasman (September 1989) who cut off Baldwin's Casuals
Bert Latham
4. Bert Latham (December 1990 - 18 February 1991)

5. Insurance man (July 1995) who assessed Kevin and Sally's kitchen after Bill set fire to it.
Harry Benson
6. Harry Benson (9 January & 3 July 1998; 21 - 23 April 1999)

7. Photographer (22 November 2000) when Jack Duckworth was presented with a cheque for £59,631 from Skinners bookies.

8. Photographer (16 May 2001) who photographed Curly Watts and David Platt during Curly's election campaign.
Gerald Unwin
9. Gerald Unwin (2003) who attended the wedding of his niece Shelley Unwin - manager of the Rovers Return - and who liked a drink, a smoke and the ladies.
Clifford
10. Clifford, the nosy neighbour of Joy Fishwick (2011). The spritely "Kung Fu" Cliff who, along with serial killer John Stape, found the body of neighbour Joy Fishwick after karate-kicking the door open. He later attended her funeral and also caught Chesney trying to snoop at the deceased's property.

In 2012 Dave also played the role of Jack Walker in the stage production of Coronation Street held as part of the Greater Manchester Fringe Festival. You can read our review of it here.

Read our exclusive interview with Dave Dutton here.
Follow Dave Dutton on twitter
@daveduttonuk

Visit Dave's website
Like us on Facebook | Follow us on Twitter | Download our free App | Visit Corrie.net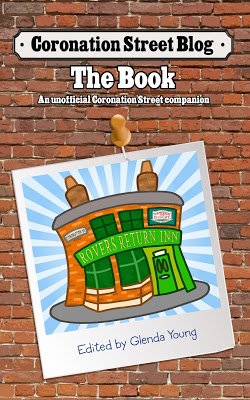 NEW! Coronation Street Blog - the book.
A must for all Corrie fans!
Please read
our advice for leaving comments on the Coronation Street Blog
All original work on the Coronation Street Blog is covered by a
Creative Commons License