When she's not cuddling her, ahem, pussy, Eva is making sure her man has enough energy drinks and planning a Mexican-themed proposal party for her and Aidan. The Bistro is set up with Eva in her Sexy Mexy red dress, but Aidan is nowhere to be found. Eva leads the Mariachi band to the Rovers, where Aidan is snogging Maria in the toilet (mmm romantic). Why these two attractive, confident, fabulous women are demeaning themselves with this boiled egg in a too-tight suit, I do not know, readers, I really don't. Anyway. Aidan accepts Eva's proposal, which upsets Maria who thought the diamond anklet from Aidan was forever. Corralled into being Eva's bridesmaid, Maria demands Aidan makes a choice. The crimper or the knicker-stitcher, Aidan. Who goes? You decide.
The other Connor story is Kate haranguing Johnny about his neurologist's appointment. He avoids telling the truth by helping Ken with his dropped shopping (wouldn't Ken have a Guardian tote bag, or at least a Freshco's bag for life?) and then opening his heart to Mr Barlow about how he doesn't want to be a burden to Jenny as he gets older. Meanwhile, Jenny's main concern is that Eva and Aidan wait until 2018 so as not to steal her wedding thunder, but it looks like she'll have to wait somewhat longer as Johnny calls off the engagement.
David tells Max that he won't see Shona any more, which goes to show that David doesn't understand the first rule of soap: Put an obstacle in the way of romance. Billy the Vic is worried about Shona, particularly as Evil Nathan is on the loose, but when he proffers David's phone to him, begging him to do the right thing and contact her, the background pic that flashes up is of Kylie, and David declares Shona "a waste of organs", before smashing his phone against a mirror. He admits to Gail that Shona made him feel normal, that he could be just a bloke who fancies someone rather than Widowed David. David's not an idiot though and he soon winkles it out of Gail that she knew that Clayton is Shona's son, which leads him to chuck Gail out of the house and reveal all to Sarah, Bethany, Billy and Eileen.
Phelan won't take Fay(e) to the Small House to see Seb (Young Offenders must have very liberal visiting hours), but he is intrigued when is approached by Caseworker Nicola (wearing
nice flat shoes
, I checked) about taking on Seb as an apprentice. 'Will being a serial killer count against me?' he "jokes".
My fave scene though was Brian practising his Dr Doolittle joke before telling it to Cathy (to her amusement). Aw.
Rachel Stevenson - on
twitter
---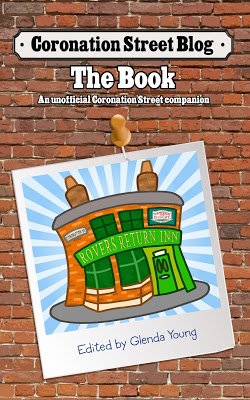 Please read
our advice for leaving comments on the Coronation Street Blog
All original work on Coronation Street Blog is covered by a
Creative Commons License