Corrie weekly updates from 1995
All the wit and warmth of Weatherfield
None of the waffle
Available from
amazon.co.uk
or
amazon.com
Mary's upset when she finds out that Norris has gone and told Gemma that she's looking for her son, Jude. Gemma takes it upon herself to help Mary out and records a message which she posts to social media asking people if they know Jude who may, or may not, be Mary's son. It can't be too long before Mary's boy child turns up on the cobbles.
And finally this week, Steve leaves it to Tim and Craig to deliver Michelle's Christmas present which is a 55" posh telly screen. Tim and Craig start off as the Chuckle Brothers – to you, to me – and end up as the Chuck-It-And-Smash-It Brothers when the telly falls out of its box and smashes on the Street. Oh 'eck.
Merry Christmas one and all!
And that's just about that for this week.
Remember, you can sign up to get these Corrie weekly updates by email at
http://www.corrie.net/updates/weekly/subscribe.htm
This week's writers were Ella Greenhill and Julie Jones (Monday double); Jayne Hollinson (Wednesday); Chris Fewtrell (Friday). Find out all about the Coronation Street writing team at
http://coronationstreetupdates.blogspot.com/2008/11/exclusive-all-current-corrie-writers.html
Glenda Young
--
Blogging away merrily at
http://flamingnora.blogspot.com
Website:
glendayoungbooks.com
Like us on Facebook | Follow us on Twitter | Download our free App | Visit Corrie.net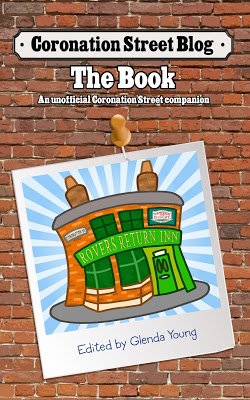 NEW! Coronation Street Blog - the book.
A must for all Corrie fans!
Please read
our advice for leaving comments on the Coronation Street Blog
All original work on the Coronation Street Blog is covered by a
Creative Commons License