There's a very sad story coming up within the next few weeks for Steve and Michelle when Coronation Street explores late miscarriage. Michelle is going to lose her baby at 23 weeks.
ITV is working with Stillbirth and Neonatal death charity called
Sands
to make sure they're getting the storyline right.
Kym Marsh, who plays Michelle, said: "I thought long and hard before agreeing to take on the challenge of this storyline. It is obviously a cause very close to my heart having lost my beautiful Archie at 21 weeks and 5 days. I discussed it with my family and friends, all of who were very supportive.
"In the end I felt it was an important story to tell in order to raise awareness of something which affects thousands of women every year.
"I have had to go to some very dark places in my mind whilst filming these heartbreaking scenes but my family, friends and colleagues have been incredible. Losing a child is something that never leaves you so to revisit those feelings as Michelle has been challenging.
"Coronation Street ensured that I had a counsellor on set at all times to go to after filming the scenes but for me the best tonic after a hugely emotional day was to go home to my kids and be reminded of how lucky I am to have them.
"I am very proud of what we have done with this storyline and I hope it helps raise awareness and helps people to talk about their own experiences."
Late miscarriage is not rare but it's also not overly common. At and after 24 weeks, it is considered a stillbirth, which is what Maria Connor experienced when she had to give birth to a baby that had already died. The story will start the week of January 9 and will have a devastating effect on both Michelle and Steve, who we viewers know is also the father of Leanne Battersby's baby. What this will mean for them remains to be seen.
I have to say I have great respect for Kym Marsh. Tackling this storyline would be tough for anyone but Kym lost a child herself at 21 weeks and 5 days a few years ago. She has relived the most difficult time of her life while filming this storyline but believed it would help others. I know she'll pull out all the stops.
Tvor
@tvordlj on Twitter
Like us on Facebook | Follow us on Twitter | Download our free App | Visit Corrie.net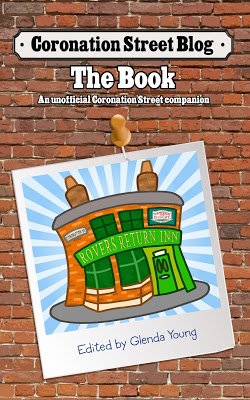 NEW! Coronation Street Blog - the book.
A must for all Corrie fans!
Please read
our advice for leaving comments on the Coronation Street Blog
All original work on the Coronation Street Blog is covered by a
Creative Commons License