As usual, the majority of the residents of Weatherfield are looking forward to Christmas. But as in life, so in Soapland - there will be those who are dreading it, particularly Maria. It seems likely that Maria will be sent down. As she said herself, it is doubtful that the judge will have swapped his wig for a Santa hat. She will of course be heartbroken for Liam who will be without his mum, his only parent, at this time of year. She will also be wondering just how genuine Aidan's professions of love are. And, along with those two anxieties, she will be feeling guilty, really guilty, about how she has betrayed one of the best friends anyone could have - Eva.
If there was a prize for Best Girlfriend and Best Friend on the cobbles, then Eva would do the double. As a girlfriend to Aidan, she has been nothing short of, to quote Sandy in Grease, 'totally devoted.' However, we have seen this devotion irritate Aidan, at times. Maybe if he was totally devoted to her, he would not experience this annoyance. It is because they are not on the same page regarding their relationship. that to Aidan, Eva may feel somewhat cloying.
I have to ask the question, though, 'Is Eva stupid?' Right in front of her, on several occasions, it has been pretty clear that Aidan is preoccupied, and that that preoccupation is Maria. He went to finish some bits at the office and look around - Maria is gone too. Never has he been more conscientious about his work. The other night, Eva discovers (why didn't he tell her?) that Aidan punched Adam for derogatory remarks about Maria. Eva concludes from this that her boyfriend is an honourable man. 'Bless him -it's him all over that - he stuck up for her. ' Did anyone else join me in yelling at the television, 'Eva! For heaven's sake! Open your eyes!'
She tells Aidan, ' I'm going to spoil you rotten.' She adds, given what is happening to Maria, that she is going to 'count her blessings.' She tells Aidan that he is number one!
As a friend, Eva is second to none. She has even bought Maria a face massager. She bursts into the party, telling Maria that, 'Whatever you want to happen today, we'll sort it.' She has previously pushed Aidan to stay the night at Maria's, so that Maria will not feel unsafe As is the way of betrayal - Eva sees no malice, no plotting and no disloyalty emanating from her genuine acts of kindness.
It will be almost unbearable to see her heart shattered, when it is revealed that her friend and her boyfriend have abused Eva's generosity of spirit and have jointly deceived and betrayed her.
Merry Christmas one and all!
Ruth Owen, twitter: @Ruth1722
Like us on Facebook | Follow us on Twitter | Download our free App | Visit Corrie.net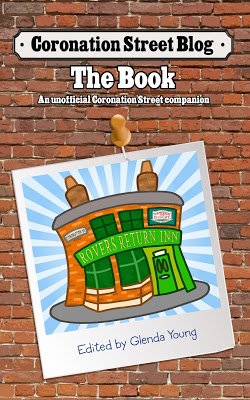 NEW! Coronation Street Blog - the book.
A must for all Corrie fans!
Please read
our advice for leaving comments on the Coronation Street Blog
All original work on the Coronation Street Blog is covered by a
Creative Commons License