Guest blog post from Tommy Cowell.
Follow him on twitter and have a look at his website.
Would you like to write a guest blog post? Details here.
Just last week pictures of the abandoned Coronation Street set on Quay Street were revealed. The cobbles are gone.The houses are windowless. The Street, derelict. It's eerie; despite the fact the cast and crew moved to a shiny new set, just two miles away, you can't help feeling a little gutted seeing this historic site in such bad condition.
But good news! ITV, partnered with Manchester's wonderful HOME theatre, organised a discussion with many of the talented people that played a role in Corrie over the years, celebrating Granada's 60th Birthday. Actors, writers and producers all came along to talk to Matt Charlton (who was an excellent host for the evening) about their time at the famous Studios.
"Back in those days the viewers believed that Hilda and Stanley were real people and they felt sorry for thembecause theywere so poor," revealed John Stevenson, a writer from the classic era of the show. "They sent in crumpled one pound notes to help them out!"
Sally Dynevor (Sally Metcalfe) worked with Jean Alexander (Hilda Ogden) when she started on the show. She agreed with John, that Jean was professional, always on time and didn't suffer fools gladly. "She was a great influence to Michael (Le Vell, who plays Kevin Webster) and I." She recalled one Christmas party – and the one rare occasion when Jean lost her temper. "We were at the Bonded Warehouse and someone had the idea of releasing a flock of birds, as part of a display- "
"Oh, yes!" John chuckled, recalling the memory.
" - and she was furious. She didn't like the cruelty to the birds. But she was always so easy to get on with, never angry."
Naturally, Jean and Tony Warren - two giant icons of the show - were brought up in conversation. It was only this year that they both passed away. Kieran Roberts, the executive producer of the show, shared his memories of Tony. "He was charming and would often phone me up with his opinions on how the show was going. If he didn't like something, he wasn't afraid to say it!" When asked about the responsibility of keeping Tony's vision alive for the future, Kieran said, "Tony, at twenty-three years old, created that world, fully formed. The warmth, the comedy, the drama. We must keep sight of that."
A special "minisode" from the 90s, once thought to be lost, was screened for the first time in years. It was dug from the ITV archives and sadly isn't available on YouTube. The clip, which featured the return of Hilda Ogden, was pure brilliance. She returned to the Rovers, now rich,bragging about how her Doctor friend asked her to marry him. "Has he gone senile?" quips Alec. Hilda demands Alec's best port. Alec: "We have 'the Grimsby". Hilda: "Why's it called that?" Alec: "It's some old British Port." The audience loved it – laughing at the gags and even shedding a tear or two towards the end, when Hilda visits Stan's grave. She looks to the next grave, which is in a sorry state, and tells her Husband, "see Stanley, it's like I always told ya. No matter how bad things are, there's always someone worse off than you."
One of the current writers of the show, Debbie Oates, was on stage. She gave an insight into what it's like in the Coronation Street story conference. "It's forty people in a room, arguing about people who aren't real. It's the least lonely writing job in the world – usually a writer sits at home in their pyjamas, but once every four weeks you have to put your conference clothes on."
John admits that working for the show was "like a drug". He was assigned to work on the show in the early 70s, a time when nobody wanted to write for it. Coronation Street was viewed as a little stale. But he loved itand ended up writing there for thirty years. "I wanted to control what happened next!"
Debbie remembers her first episode, broadcast in 2002. "We went to a pub to watch it. And when my words came out of Barbara Knox's mouth, it was like, 'wow!'"
In fact, everyone on stage just seemed grateful to be working there. Even Sally, now in her thirtieth year of working on the show. "I still pinch myself," she admits. "I thought I'd only be there for four weeks." In fact, she had a question for John. "Was it just a coincidence that my name and the character's name are the same?!"
John said, "I honestly can't remember who did the casting for that. But they did an all right job!" The room erupts with applause. Everyone loves Sally.
Sally continues: "I'm married to a Tim in real life, and everyone thinks I'm the same in real life as I am on the show," and then she says, laughing, "which I am!"
Another person who can't quite believe that they're acting on the show is Connor McIntyre, who plays bad-boy Phelan. "I was only there for three scenes originally, for the Owen storyline. And now look!" He remembered his first scene with Sally, "I sat opposite you and I said, I can't tell you how amazing this is. And then I had my first scenes with Rita, and Norris, and in a couple of weeks I get to film with Bill (Roache, Ken Barlow)." But then he stops talking, cautious of spoilers.
Kieran reveals that we'll be seeing a lot more of Phelan in 2017. Hooray! Also: boo, hiss!
The audience were treated to three clips from the Christmas Day 2016 episode. Here are a few teasers... (potential SPOILER WARNING)
Eva and Toyah
It looks like Leanne may have her two sisters at war with each other. Toyah's not a fan of ditsy Eva!
As well as Toyah, there's a new addition to the family. One that may come as a nasty surprise to Aidan!
Nick vs. Peter
It's all gonna kick off on Christmas Day. There's even a street brawl between the pair, but it's Sally who steals the show.
The fight has consequences – we're forced to wave a tragic goodbye to a character because of it…
Mary and Norris
Norris and Mary fall out on Christmas Day
And it's all Norris' fault. He does something unforgivable…
2017 also sees the show go from five episodes a week to six. John laments the higher episode count. "When it got to four episodes, it became too much. You had more time to change lines before that happened, you could hear a line in the rehearsal, realise it wasn't working and tell the Director to change it. Those days are gone."
Sally is positive about the extra weekly slice of Corrie action, "It's amazing how you adapt. You go from two episodes, to three to five, and now six next year… We can play more stories, play them longer. Hopefully we'll get longer scenes, like they did in the old days, because at the minute everything is so fast paced. In fact, I was just speaking to our new producer (Kate Oates) about having longer scenes…" So does that mean more Sally in 2017? Hopefully!
Other topics that were brought up include Hayley's exit storyline. "When an actress like Julie decides to leave, we have to make that storyline spectacular. It's hard to watch, but we're so proud of it," Kieran said.
"It's sad when an actor decides to leave, but it's a great opportunity as a writer to write some great stuff," adds Debbie. She also reminisced about the 2015 live episode, which she wrote, featuring the death of Callum Logan. "It was like a military operation. And the after-party was brilliant. It was so well produced, no mistakes, which is a little disappointing."
Kieran recalled a scene from the episode, in a kebab shop, which featured a sound issue. "The sound department were GUTTED. But I told them I was relieved that the mistake happened, because it proved it was a live episode!"
Sally had some great memories of the "quirky" actors she played opposite many years ago, including actress Jill Summers (Phyllis). "She went to the loo and came back with toilet roll on her skirt!" she also had fond memories of the tech runs, where the actors would rehearse each episode in front of the camera and lights. "All the older actors would turn up and play their scenes in their own clothes, because it was just a tech run. All these actors, in character, but wearing their own fur coats and top hats!"
Sadly, after two and a half hours, the evening was over. But I got to see Connor downstairs, and managed to grab a cheeky photo.
The old set may be deserted, rotting away and ready to be demolished after years of faithful service. But with actors like Sally and Connor, and people like Debbie and Kieran behind the scenes carrying the torch, Coronation Street is still very much alive and kicking, and will be for many years to come.
Thanks to Tommy Cowell.
Follow him on twitter and have a look at his website.
Would you like to write a guest blog post? Details here.
Like us on Facebook | Follow us on Twitter | Download our free App | Visit Corrie.net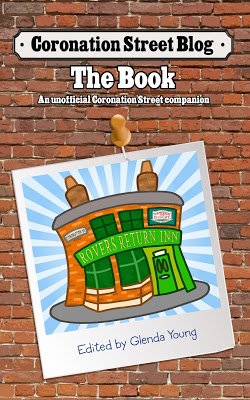 NEW! Coronation Street Blog - the book.
A must for all Corrie fans!
Please read
our advice for leaving comments on the Coronation Street Blog
All original work on the Coronation Street Blog is covered by a
Creative Commons License