Christmas arrives early in Weatherfield as Maria's freedom hangs in the balance, and a crew gather to celebrate the festive season with her before the court appearance which may see her jailed. Eva's bunny boiler tendencies have taken a back seat of late. She used to see reasons to be suspicious where there were none, yet now is blind to all the signals which show Aidan has feelings for Maria. Even the news that he punched Adam defending her honour is cause for Eva to be proud rather than concerned. There appeared a stronger chance of Kirk guessing that El Greco was the name stuck to his forehead than Eva suspecting anything.

Kirk, along with Beth, Michelle and Steve, provide the comic relief as Aidan and Maria nip out of the party for a snog in the factory. He genuinely does seem to feel terrible about betraying Eva and so, eager to do the right thing, says he'll break up with her once Maria has left for court, and then follow her there for the hearing. Far be it from me to scupper soap jeopardy, but wouldn't he be better breaking up with her in good time? What if there's an accident on the ring road? Ooh he'll be cutting it all very tight for my liking.

They're not alone in the factory, however, and after revealing himself to Aidan, Johnny declares himself less than pleased to have witnessed the carry on. But Aidan tells him he has no choice but to break Eva's heart. I'm liking this approach, which is a refreshing departure from the interminable hidden affair where both parties try not to get caught and while they inevitably do, it's not before we're well and truly shot of the ducking and diving. I do wonder, however, if Maria will reward him for his decision in the event that he carries it out and she avoids jail, as while she claims to love him, she has seemed quite happy to sleep with Adam.

He nurses his black eye with the rest of the Barlows who are also having an early Christmas celebration, and it all feels nicely cosy and authentic. Peter sneaks about with a present which Tracy notes resembles a cassette and shoves it in a drawer when it's plucked out for opening. This doesn't go unnoticed by Nick who appears a petulant child in contrast to Peter's mature serenity. So petty is he that he revels in presenting Simon with a drone, thus dwarfing Peter's humble and unwelcome gift. Ken, Leanne and Daniel in particular note the disappointment on Peter's face and Nick's smugness doesn't endear him.

Even when Leanne tackles him for being immature, he retorts that he's a better man and Peter's a waste of space, leading her to send him packing. Peter continues to succeed in proving him wrong by declaring himself well past playing those games, an assertion which is clearly genuine. While he remains tight lipped on what makes him happy, he does book a hotel room on the sly for himself and a 'Miss Battersby'.

The way things are going of late, Weatherfield police may as well set up an office on the street. This time, they're around to discuss Bethany's disappearance with Sarah and Gary. Sarah is horrified to hear that her daughter confessed to being involved with an older man, and furious at Gary for not telling her. Gary then makes a quantum leap to presuming it's Luke after Norris reports that he saw her upset and being comforted by him the previous night. Luke is promptly pinned to the garage wall, and Kevin breaks up his 129,132nd fight on the street. Clutching her copy of Moxy, Faye looks more than a little perturbed at what she sees.

Billy's delighted to hear he's gotten the job at the rehab centre, Steph receives flowers from Phelan, and Andy takes to the medical centre for relief from his headaches and is more than a little abrupt with the doctor whose suggestion of grief counselling in the wake of Michael's death is given short shrift. Michelle's expensive telly hits the cobbles courtesy of Tim, Craig and a flimsy box, but at least Norris was on hand with a 'told you so' and a dustpan to make them both feel better.

While we can't be sure of what lies ahead over the next few days, it doesn't feel to me like it's building up to what you'd call an 'explosive' Christmas on the cobbles, but maybe that's a nice thing.
As this is my last Corrie review before Christmas, I hope you all enjoy the celebrations, and may it be a happy and peaceful time for you all.
By Emma Hynes
www.emmahynes.net
Twitter:
@ELHynes
Facebook:
@EmmaHynesWrites
Instagram:
emmalouhynes
Like us on Facebook | Follow us on Twitter | Download our free App | Visit Corrie.net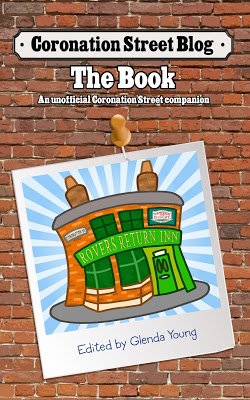 NEW! Coronation Street Blog - the book.
A must for all Corrie fans!
Please read
our advice for leaving comments on the Coronation Street Blog
All original work on the Coronation Street Blog is covered by a
Creative Commons License