Pets are supposed to teach small children about death; unfortunately the vicious murder of Cilla the chinchilla has taught Hope about vengeance. I presume like most murders in Weatherfield, it will be a miscarriage of justice and it's actually Cerberus who's the real canine crim. Hope inveigles Sam into borrowing Vin Weasel from the barbers and makes it bite her, then accuses Peanut of the dreadful deed, only to become upset when she learns the diddy dachshund may end up being put down.
In white supremacist news, Max's solicitor (whither Posh Paula?) reckons he's got a good chance of getting off due to having been groomed by Griff, but her fees are higher than David's bouffant (I paraphrase). David persuades Audrey to lend him the money (probably because she knows he'd steal it otherwise) and all seems good until Stephen finds out this would lead to equity release on Grasmere Drive and he talks her out of it. David shoves Uncy Stephen against a wall and there's a bit of handbags between them. Don't know who to be more worried about - Stephen has (accidentally) killed two men, but David's been in prison (twice) and once pushed his own mum down the stairs. All of this is moot anyway as Max decides to plead guilty, saying he needs to face up to the consequences of his actions. I presume unless the prison set is going to be remodelled as a young offenders' institute then Paddy Bever is doing his A-levels?
Talking of grooming, Nick is angry when he spots Damon showing Sam how the DJ booth works during their all-you-can-vomit cocktail hour (two things: Boozy Bistro on a Monday? Are they insane? I know Manchester is party town, but still. Secondly, Damon DJing? I thought, legally, only Ryan was allowed to spin the wheels of steel in the M10 area). Nick should be less bothered about drugs king pin Damon and more about Sam's friendship with the devil child Hope.
Daisy and Daniel have remembered that their housemate and sort of sibling Tracy runs a flower shop and they try to tap her for free blooms. This isn't going to work as Tracy doesn't suffer relatives gladly and secondly, influencer promos need to be site specific, surely? No-one's going to drive across the north west to buy a bouquet just because Daisy's promoted Preston's Petals on her socials. Also, double D want a chocolate fountain at their wedding - is it 2009??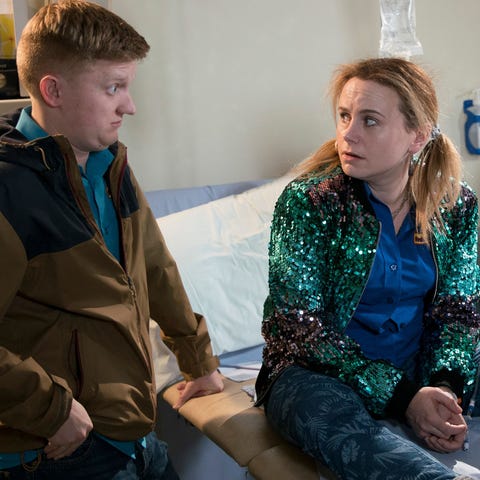 Daisy should be organising the Chemma nuptial as the wedding pot is missing a few quid since Chesney registered his burger joint with Companies House (and presumably also www,chesburgers,biz). In fact, how anyone's managed to get wed since marriage maven Michelle stopped organising them is a mystery. Gemma looks after Bertie as well as Glory and the quads (Joseph has run away to sea to avoid the potato painting and screaming) but I'm wondering which kid is going to be rushed to A&E in an upcoming episode.

Rachel Stevenson - on twitter

---
---
All original work on Coronation Street Blog is covered by a
Creative Commons License