Rita has managed to get over the ignominy of being asked to secure a restaurant table with a credit card and the senior members of the cast (and Roy) assemble in the tea rooms of the Chariot Square Hotel where they bump into Claud! She's back! Oh and also Charles. No-one wanted to see him again. Audrey and Ken spy on them, Claud and Charles argue, Charles storms off and Claudia joins the oldsters' table with their prosecco and double entendres. Good to see Claudia's hair has got even more resplendent since she was last on the show. Everyone drunkenly confesses their peccadilloes and Audrey finally 'fesses up to her suicide attempt (just as her belated birthday cake is brought out). She has to make further confessions, that she hasn't told Gail et famille and that she hasn't taken any of her anti-depressants. They talk it over and Audrey says she feels a lot better and will start on the pills.
I loved this, it had comedy, it had pathos, it had bathos, it had Rula Lenska.

Oh and Suspicious Stephen has the paperwork all drawn up for the trust fund re: Audrey's money. I wonder where that's all going to go.

Talking of people no-one wanted to see, Craig is getting on Fay(e)'s wick. Craigy-boi, don't upset a menopausal woman, you will live to backtrack on it. He makes her quinoa porridge and tells her forgetfulness and anger are signs of the menopause and then approaches Carla to ask her to go easy on Faye, which immediately backfires as Carla has a word with her. Faye chews out Craig, who stomps out of the flat to go and stay with Beth and Kirk (and Peanut).

There is one way out of quinoa and cooling nighties, and that's HRT, Faye!

I accidentally read a spoiler re: Spider's dark secret when I was looking up how old he - or rather the actor - is (48) and let's just say that there might be another old cast member returning. Anyhoo, one of Spider's pals turns up in the cafe, Toyah gets on with him, and agrees to go to a Weatherfield XR protest, to Spider's (and Leanne's) chagrin. She later thanks Spider for helping her find her inner Emmeline Pankhurst, all watched over by Adam's beady stare.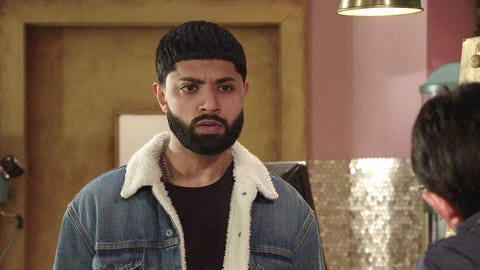 And finally, D.S. Zeedan is on the case of Stu's wrongful conviction. Craig tells him that Detective Lennox was pensioned off on specious reasons after having an affair. Could Det. Lennox be the actual murderer? Or maybe it was Stu's ex-wife whodunnit? Stu has written to Alya, Zee and Yas asking them to visit, but Yasmeen throws the letters in the (recycling) bin.

---
---
All original work on Coronation Street Blog is covered by a
Creative Commons License