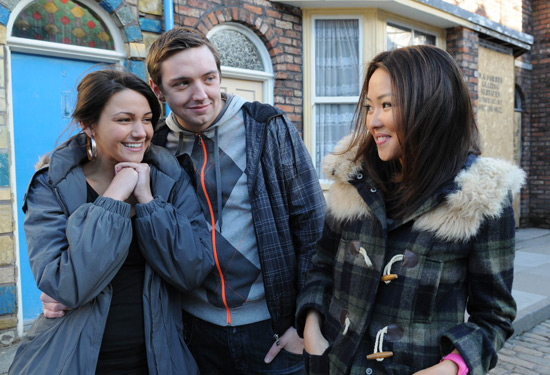 I've got a few problems with the current Graeme/Tina/Xin triangle.
Firstly, I agree that the wedding probably won't happen as it's currently being talked about, because Corrie won't want to be seen condoning something so illegal, especially when it involves a much-loved character like Graeme. Secondly, I think it's a shame that it's likely to be Craig Gazey's last big story. Thirdly, although I am all for a more ethnically-diverse Corrie cast, I don't like the way that Xin has gone from being a literal nobody to a somebody within a short space of time. Fourthly, when did Tina become such a harridan?
I loved Tina and thought she was a breath of fresh air when she first came around. I think the actress is amazing and I loved Tina's scenes with Joe and her dealing with Joe's death. But a few months ago she started wearing her hair in a high ponytail and it seems like a personality change came with that, along with her new job in the Rovers. I don't like Tina anymore and I wish she was leaving instead of Graeme.
I thought the break up scene last night between Graeme and Tina in the pub was laughable. Xin, for instance, didn't join in, which I found unrealistic, and she was smiling the entire time, which I didn't think was helpful. Graeme was on the verge of laughter too, although I couldn't work out if that was Craig corpsing or not.
I think that the rumours about Graeme and Tina breaking up for good are probably true, especially given Graeme's jibe about her dad, which may just be the straw that breaks the camel's back.